Thousands of TYBMS students are gearing up for the SEM 6 exams without a single clue of how they have fared in their SEM 5 exams held in April 2016.
This is not the first time the results for self finance courses are delayed. Mumbai University has a successful track record of delaying the results of unfortunate souls who payed a premium to enrol themselves in the much coveted BMS course. Just sort through our updates for TYBMS results on this site and you will find the hue and cry of students is a constant reminder of inefficiencies within the university for several years with no one held accountable.
It is an irony that the university last year added to its work load the centralisation of FYBMS exams at all colleges as well. The course also degraded with scaling down of internal marks, research report rollback and a Philip towards rote learning.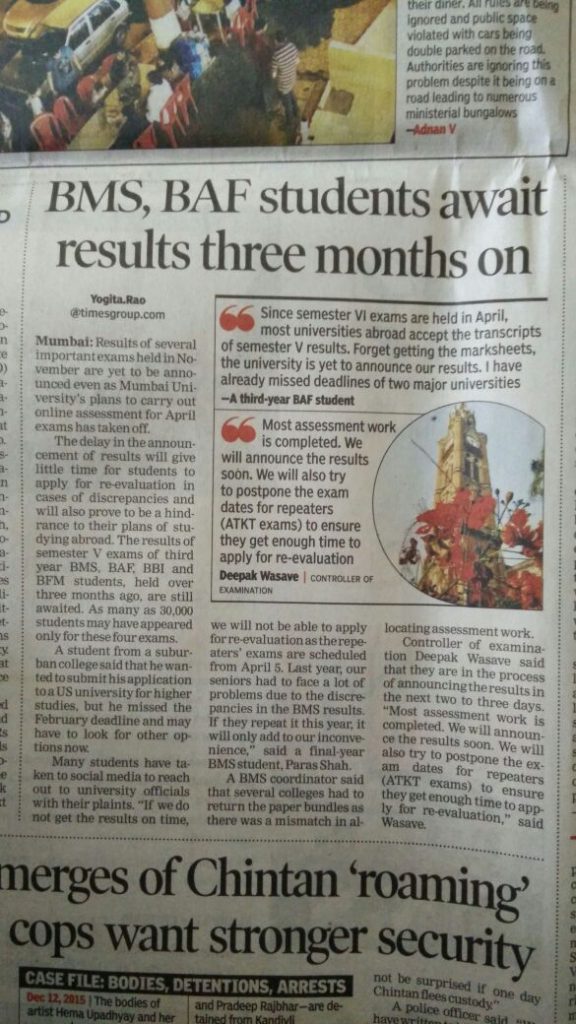 Todays news article circulated like wild fire with the students, parents and bms fraternity alike finger pointing the never ending concerns of the course.
Our sources have informed us that there is a rejuvenated effort towards announcing the results in the next 3 days. However, we also hear that there are roadblocks which may further delay it. Work is in full swing is what we are told.
Some statistics and reports also hint that students are intentionally failed so that the re-evaluation fees of Rs. 500 becomes a revenue source for the university.
As many as 30 % MU students who applied for the revaluation between 2014 to April 2016 had actually passed the exam for which they were wrongly failed.
Our advice to TYBMS students is to keep calm and study for SEM 6. If the results are not upto mark, pay the Rs. 500 demanded by the university for re-evaluation and keep your fingers crossed.
Pour in your comments. We'd love to hear your thoughts.