Fashion has been a great impact on our lives. Edith head once said "Your dresses must be tight enough to show that you are a woman but loose enough to show that you are a lady!!" .Gone are the people who weren't concerned how they looked or wanted to be an inconspicuous persona who only ogled fashionistas from a distance but never dared to give it a try!!! The reason why the people have all of a sudden become zealous about fashion and looking fabulous is the colourful and convivial magazines that has made people an erudite in fashion and has converted people from being self-conscious to a gregarious living being!!! So sensing the popularity and importance these pages of innovation have, here is the list of the top ten fashion magazines who have taken a toll on every woman's heart…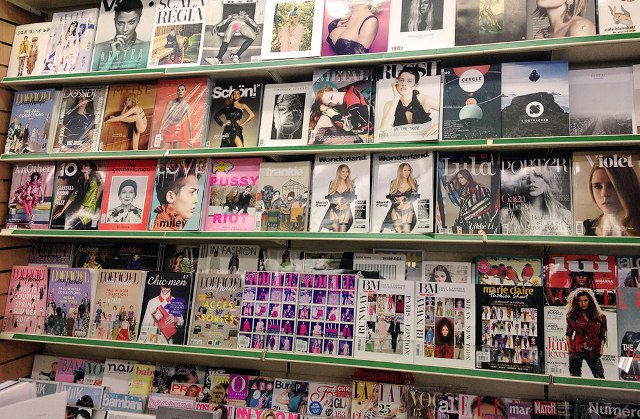 ELLE-
It was founded in France by Pierre Lazareff and his wife Helene Gordan in 1945 with the famous slogan "Si Elle lit Elle lit Elle" which means "If she reads, she reads Elle". Today it's the world's bestselling magazine with over 43 international editions which focuses on beauty, health, fashion and entertainment. The word "Elle" means "she" or "her".
GLAMOUR-
Founded in 1939 in the United states of America, Glamour is a women's magazine which is published by Conde Nast Publications. It was originally known as "Glamour of Hollywood". It is a monthly journal which offers fab up do's and hairstyles and make up and has been voted as "Britain's No. 1" magazine.
Grazia-
Founded in 1938 is an Italian weekly women's magazine and a celebrity gossip magazine which was founded by Mondadori and is owned in the UK by Bauer Consumer Media. The deals done by Grazia are higher than Vogue or Elle. Grazia in Italian means "Grace".
Vogue-
Founded by Arthur Turnure in 1892 was published as a weekly magazine only to become the globally recognised fashion and lifestyle magazine that is now published monthly in 23 different national and regional by Conde Nast. It was described as "the world's most influential magazine". Vogue in French means "style".
Marie Claire-
Jean Provoust and Marcelle Auclair founded this beautiful magazine in the year 1937. It is an international monthly magazine which was first published in France and the USA edition focuses on women and the related issues and also covers fashion, beauty and health giving it the spot of No. 5.
In Style-
Founded in June 1994, it was the first magazine to have a famous musical artiste or actor on the cover page than a model. A monthly published journal by Time Inc. which covers beauty, clothes, homes, and celeb lifestyles to name a few and aims to appeal to any women no matter what her fashion price may be.
People Stylewatch-
Founded in 1963, the concept of People's has been attributed by Andrew Heiskell is a weekly American journal which covers celebrity and human related issues. This magazine has the largest audience in America and also was voted as "Magazine of the year" by advertising age in 2005.
Harper's Bazaar-
Debuting in 1867, America's first fashion magazine is a monthly published journal. It targets the middle and upper class women by catering fashion from Germany and Paris in a newspaper design format. They consider themselves to be a style resource for women who are first to buy from casual to couture.
Cosmopolitan-
Acquired by John Brisben Walker in 1889, Cosmo ensured that it was a family magazine related to concerns of women only to change it into an international magazine for women starting from mid-1960. It covers a myriad of topics ranging from women's issues, relationships, sex, careers, celebrities, lifestyles etc… It has won many awards like fun and fearless male female of the year award, bachelor of the year, Cosmo blog awards etc…
      10. Look-
Introduced by Gardner Mike Cowles Jr. in 1937, Look was a bi-weekly general interest magazine published in Des Moines, Iowa from 1937 to 1971 and had more emphasis on photographs than articles which proved to be a nemesis for this worthy magazine and had to close down in 1972.
WRITTEN BY : Shabnam Mukadam
PUBLISHED BY : Shweta Agarwal