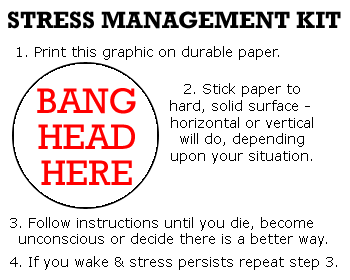 Stress is something everyone deals with at some point and you don't know how to get it all out and get your mind back to normal! Releasing stress by sleeping all day won't help, instead try these fun ways that will help you beat stress easily.
Dance: Dancing is always fun and I don't think anyone hates dancing. If you hate dancing then just put on your headphone and go jogging or run on the threadmill on daily basis. This will not only help you beat stress but will be your daily exercise too! Nice two in one trick huh!
Let it out: Sharing is always a great solution. Talking to a close friend who is willing to listen to your problems and the things bothering you without giving too much of advice, really helps in letting your stress out!
Let it GO: You cannot control everything. Not everything is in your hands, and so you have to let go of things and relax! Too much of botheration is going to kill and that's no good to you, isn't it? So, give things the time it needs and stop stressing yourself!
HUG: Hug is most lovely thing you can get when you are all stressed out and can see no way out of the mess. A hug from a family member, friend or anyone close is like an assurance that they are always there and they care! Want a hug?
Smile: The simplest and easiest way is to smile. It's proven that a smile can improve your mood and can beat stress. And don't to think it's just in your budget? You won't have to spend to beat stress if you just 'SMILE'.
Which of these ways work for you to beat stress? If you have some cool awesome ways, then do share!
– Saloni Tolia.
The following two tabs change content below.
Latest posts by Smita Singh (see all)