Man is a social animal and ought to socialize, but with company around, there are times when egos tend to mingle along as well. This could result in exchanges of words that could put a strain on relationships. Continuous bashing of words with an individual could turn ugly and lead to hatred.
The impact of hatred
Hating someone is injurious to one's own health since it causes anger within, and this annoyance can take a toll on one's health if it builds too high.
Why Forgive?
Mental balance applies towards good health. Since health is wealth, forgiveness is the way to go. Forgiving someone is like having a mental balance by letting go of any resentment or grudges towards an individual, which will help to clear the conscience and is very crucial for resolving relationships. Than I heard "Forgive the person you hate the most.
So what were the reasons?  Let's discuss…
1.  Forgiveness allows us to take responsibility for our own happiness.
Most of what we attract into our lives is a mere reflection of what is inside of us.  Our thoughts and actions create our exterior world.  The Law of Attraction teaches us that like attracts like, and we will never experience a happy ending at the end of an unhappy journey.  By holding onto anger and resentment (even in our subconscious mind), we are pre-paving our journey to be filled with anger and resentment.  The way we feel and the emotions we hold are what we use to create all of our future experiences.
2.  Forgiveness allows us to see everyone in our lives as a teacher.
Family members, spouses, friends, bosses, etc. –everyone is brought into our lives to teach us more about ourselves.  Thanking them for being a part of our journey and teaching us lessons that we now no longer need to learn is an incredible step in expanding our consciousness.
This same philosophy applies to our negative, failed relationships too.  Once you truly learn the lesson behind why a negative relationship came into your life, you will then no longer attract situations and future relationships that attempt to teach you the same lesson.  You get to graduate and grow so you no longer keep repeating the same unpleasant experience over and over again.
3.  Forgiveness helps us stop playing the victim card.
Adjusting your perspective to a place of forgiveness and gratitude allows you to no longer play the victim card.  Most of the time you are not a victim of anything other than your own vibration and level of attraction.  When you continue to blame someone else, you automatically give control of your life to someone else and thus set yourself up to be a lifelong victim.
4.  Forgiveness makes us aware that most people are doing the best they can.
Have compassion for where other people are in their lives.  It might not be where you are, but most people are doing the best they can at their particular level of awareness and understanding.
5.  Forgiveness embodies the concept of "what goes around comes around."
We are all human and we have all done "unthinkable" things.  And deep down, we all yearn for the same forgiveness.  When we release others from the penalties of their actions, we create a space where our own thoughtless actions against others can be forgiven as well.
6.  Forgiveness forces our own level of consciousness to expand.
The process of growth is continuous.  The moment we stop learning, searching for lessons and expanding our consciousness, the ego steps in and takes over.  We are always moving toward something greater, and forgiveness helps us get there faster by eliminating our ties to dead weight from our past.
7.  Forgiveness teaches us to keep our expectations tempered.
We should never be expecting anything from anyone.  When we do this, we give up our own power to decide.  We alone are the creator of our universe, and when we are connected to our own inner source, we no longer "need" anything from anyone.  It's still nice to receive things from time to time, but we don't need these things to move forward with our lives.
8.  Forgiveness teaches us to tone down our instincts for self-preservation.
Too often we injure one another simply because we are trying to protect ourselves (financially, emotionally, etc.), even when it's at someone else's expense.  We have all done it.  Becoming aware of this pattern allows us to stop needlessly injuring others for our own benefit.  And as you know, what goes around comes around…
9.  Forgiveness creates a space to let go and love.
Not everyone and every situation are meant to be a part of our lives forever.  Sometimes they are only there long enough to help us open the next chapter of our story.  Letting go creates space to let new people and experiences in…
In addition, we are all connected.  We have never met another person that we have not loved in some small way.  Sometimes we just don't consciously know how to understand it and show it.  Simply put forgiveness in and of itself is an act of letting go of our differences and connecting with our oneness and love for each other and the world we inhabit.
10.  Forgiveness is the best revenge.
A bit of sarcasm in this one, but it's so true.  You can always seek revenge positively by creating a better future for yourself.  Because nothing annoys an adversary or negative force in your life more than seeing you smile after you have genuinely forgiven them and moved forward with your life.
After thoughts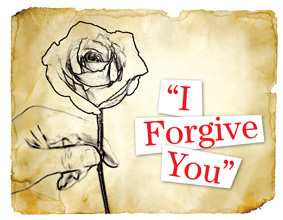 In most walks of life, I think it's fairly easy to say, "I forgive so-and-so."  Deep down, though, the resentment and anger still lingers within us and in our subconscious minds, which then impacts our future experiences.
For me, chanting mantras, and inhaling incense for me to fully embrace all of the lessons I had learned throughout my life, and to finally forgive.
I felt free.
Your turn…
Who would you like to forgive?  Who would you regret not forgiving before you die?  Please share your thoughts by leaving a comment below.
By Shamim Noorani.