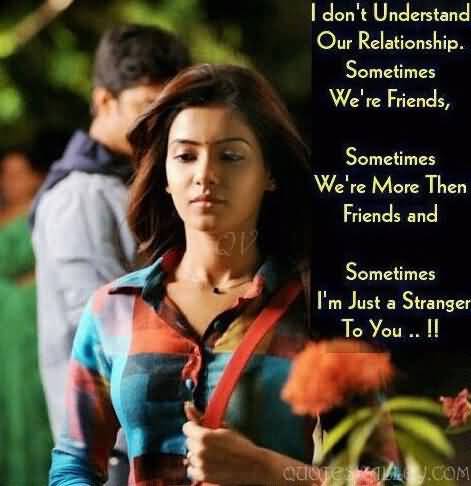 When we make friends we do not think what the opposite person is up to. We just make friends and being girls when we make friends of opposite sex, people always think something else. People have the stereotype thinking that a girl and a boy can never be friends. According to them there is something fishy in between them.
  We have a bad reaction to such a thought. We think that even after India is developing then why people aren't developing in their thinking pattern too. On our part it is right to think like this but have we tried to analyze that why people say that a Girl and a guy can't be friends? What is that, which makes them think that way?
  It is an obvious answer that we have not even given it a thought yet, then think now. We have a lot of friends and we believe that we shouldn't judge them which is right. Indeed we do not have right to judge anybody.
  Though all this is acceptable, but at the same time being girls we need to be aware especially when it comes to today's world. When we make guy friends maybe being girls we have just pure friendship in our mind but is it necessary that it is the same thought in his mind? Can you find out what is in his mind?
  There are many instances wherein guys become friends with girl because they like the girl and friendship is the best way and the first step to win a girl's heart. The common example to all this is when we make friends on Facebook with guys, immediately within days they propose us. The important thing is how can you fall for someone just by seeing a picture?
  Another example is, of a girl name Senorita she becomes friend with a guy name Donald and they become friends due to a common friend name. Donald was so fake that he initially used to like the common friend but when she mentioned she is already dating he turned towards her best friend Senorita and when he met her, he immediately proposes her and almost tortured her with his proposal for 2 years which created problems for Senorita as he reached her place and started sending gifts and the father shouted at her only. He created problems for her not only at home but also in her relationships.
  This is just one example there are many other examples but with all these aren't guys proving that a girl and a guy can't be friends. All this affects the girl mentally too. Can't she only make friends? Why such a condition of being a boyfriend if she wants a friend or else no friendship at all?