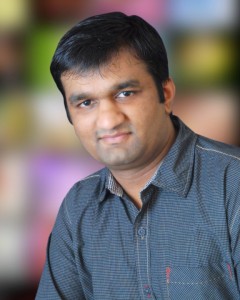 Name – Rushabh Turakhia
Company– YOUR TURN NOW
Tell us something about yourself?
A complete family person, writer, businessman, motivational trainer, life coach, firm believer of living life positively and with my Book " Knock !  Knock !! are you listening" , compels you to think that every event, every day of our life teaches us something . My audience is everyone from kids to elder and goal is to communicate Life is Beautiful for anyone and everyone
Tell us something about your initiative "Your Turn Now"?
In our daily life, many a times, we get a chance to be kind to a stranger, we act and we forget. But this reform has been started to create awareness to that stranger…of passing this kindness ahead. When they get that little taste of kindness from you, you give them YOUR TURN NOW card that says now it's their turn to touch someone's heart or make them smile. So that person doesn't have to thank you back but pay it ahead by being kind or by being there for someone else. This concept was started in Mumbai in Dec 2009 & has spread across the globe in 21 countries.
People have been so busy and running around, that they won't even spare a minute to pick up a fellow human who has fallen down.  Human beings are called as MANKIND but somehow the word MAN and KIND has separated. This concept is started to make people thoughtful & compassionate. A very simple concept where in you need to carry your stack of YTN cards (size of visiting cards) in your wallet or purse. When you help out somebody, pass them an YTN card and explain to them that it is now their turn to be kind and be there for someone else.
Get 'YOUR TURN NOW' cards for free at the website www.yourturnnow.in or SMS your detailed address at +91 9029602897
Tell us about the activities of "Your Turn Now"?
As of date 42000+ cards are out spreading smiles across globe. YTN is spreading like a kind fire and has been making people think and be compassionate. If you check on our website(www.yourturnnow.in) or Facebook group you will find different touching stories. YTN is like ATM NGO, you don't have to be present at some place, it can be done and passed sitting anywhere be it school, college, while travelling, work place, anywhere. As when you look around you will see people more hungry for kind words and deeds than anything else. A mere thought can make a huge difference in someone's life.
Your Turn Now is starting a new activity based on the concept of spreading smiles. For one week in each month, we plan to thank a particular group of workers who impact our lives daily, yet get little recognition for it. In the third week of June 13th to 19th , we request each of you to do a small, yet meaningful gesture for the traffic policemen. June is a particularly hot month in most regions, making their jobs more strenuous. Examples of kind gestures include: offering them a bottle of water, a wet towel, or even a snack. We leave the idea up to you, but truly hope you will make it a point to participate! Please pass this message on to your friends and encourage them to participate as well. Any media contacts that can help us promote this activity will be of great help, too. Remember, a small deed goes a long way! People from across the globe have responded on this and would be passing on the smiles.
According to you, what is management all about?
Management is all about managing men, manage me. If you are able to do this both you win the world. YTN is all about understanding your fellow beings around, being there for someone, supporting them in reaching to their goal, which will automatically lead you to your success both internally as well as externally. Management is also about managing and balancing your time between your work, family and yourself. What's the point being alone at top of the world?
In today's stressful life, balancing and managing your time efficiently is the only way to achieve success happily.
Your view on today's Corporate World?
Today's corporate world – very few companies are there who think equally about their employees along with the revenues and clients. Revenues, targets, profits all are necessary but not at the risk of high attrition rate, stressful atmosphere, crushing  the people under. In the end it all reflects your character, your attitude and your stance towards fellow beings. This all isn't just philosophical, but practical, which we have read in many books and have later realised when we go through it. Wise manager would learn from other's mistake
Your message to Management Students?
Last couple of months have been meeting many corporate people and happy to see that so many of them are into CSR and too much of positive and inspiring activities are happening and been taken care by the top management. At the same time have seen very arrogant management who wouldn't be even bothered about their internal as well as external customers. Only message to all the BMS students is wherever you join or you start your own organisation, initiate the positive difference in the company, and see to it that the change becomes the organisations permanent system, so that even if you leave the company it benefits the people. It's like planting a seed of a tree whose fruits would be relished by generations to come.
Your feedback for BMS.co.in?
I was very impressed to see the site and the fb page. As very few such alumni you find who are so active and supporting the students who want to join or already are in. It's a ready platform – a guide – an inspiration – knowledge shared by professors, corporates, toppers etc. All the best to the beautiful team of BMS for doing a commendable work.