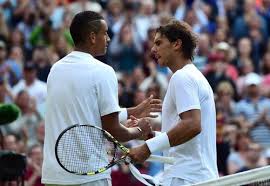 Nick Kyrgios a 19 year old Australian teenager defeated Rafael Nadal in Wimbledon. Amazingly this youn guy is ranked over 140 while Rafael Nadal is World Number 1. In sports unusual things happen and this will go down in the Wimbledon history. It was a 7-6, 5-7, 7-6, 6-3 defeat for Nadal. Nick got 37 aces and 70 winners to bow out the great Rafael Nadal.
It was an amazing game and who knows Nick Kyrgios might be a future tennis star. Being just a teenager it is a long way to go for him but this victory will surely be at the top in his career atleast for a few years. It is the nature of life, the old stars finally fade away and new stars are born. There have been times when such upsets have happened in the past but those promising young talent never lived up to the expectations.
It will be a high flying moment for Nick but he has to stay focused since now he will try to go as far as possible to show his worth to the World. There is a huge potential, At 6 feet 5 inches this monster is waiting to get unleashed. He can serve really good and his build is surely an advantage. His best strength his surely his serves but he has also got a great forehand and a pretty good backhand. He is young and experience in playing prestigious tournaments like that will help him a lot.
As Rafael Nadal is concerned, he is a champion and he will move on to the next tournament, sometimes you win you lose but the important thing is what you learn from it and how you move on and there is no doubt he will be winning titles with his Numero Uno tag.
– Jainam Jhaveri
The following two tabs change content below.
BMS Team aims to help the BMS students all over Mumbai colleges, empower BMSites and revolutionize management education. If you wish to be a part of our core team, write to
[email protected]