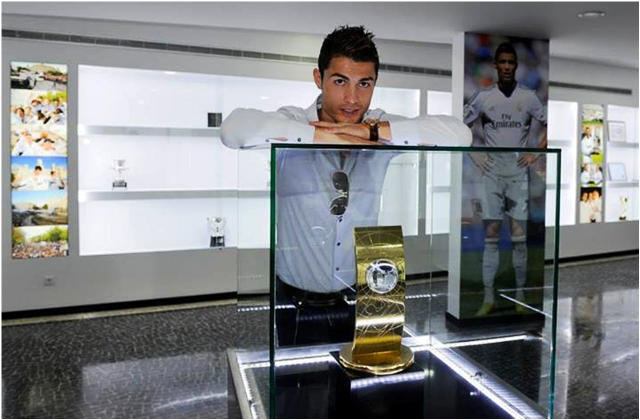 A story of the legend. Well definitely I am writing this article to say the world that I am his fan not just a fan he is my idol, god, everything. This man comes from a middle class family and now is the richest football player in the world. Reason behind it ? Yes obviously hard work and so much of dedication towards the game of football. He became a rookie in 1997 when he joined Portuguese giants Sporting SP club . After the success over there he caught the attention of  Sir Alex Fergusson the manager of the Manchester United. Soon he signed CR7 for 15 million euro. Later the legend tasted some beauty at his club by winning so many trophies. The best years or season for CR7 2007-2008 were the highest peak of his carrier. In 2007, Ronaldo was the first player to win in all four main PFA and FWA awards. Later in 2009 he became the world's most expensive player when he moved from Manchester United to Real Madrid transfer worth $ 132 million. Then what, Ronaldo became the first to European league player to reach 40 goals in a single season in two consecutive years, fastest Real Madrid player to reach 100 league goals, and the first player to score against every team in a single season in La Liga. Recently he scored 400th career goal in  January 2014. He also holds a record for most goals scored in a season for Real Madrid.
Ballon d'or winner for 2013 . His second Ballon d'or first in 2008.
Now lets know him personally.
His father, Sir Jose Dinis Aveiro, died of an alcoholism-related liver condition at the age of 52 in September 2005 when Ronaldo was 20. He doesn't drink alcohol nor he has any inked tattoos so that he can donate blood . In television footage of the 2014 Indian Ocean earthquake and Tsunami showed an eight year old boy Survivor wearing a No.7 Portuguese football jersey who was stranded for 19 days after his family was killed. Following this , CR7 visited Aceh, Indonesia, to raise funds for rehab and reconstruction . In 2009 he donated euro 100,000 to a hospital that saved his mother's life in Madeira following her battle with cancer, so that they could build a cancer centre in his native island Madeira. In November 2012, Ronaldo sold his golden boot he had won in 2011 and gave the money to fund schools for children in Gaza. CR7 has lots of more donations and charity for the betterment of the society .
This guy nails it when it comes to cars . He has some  top class cars in which Buggati Veyron, Mercedes Benz, Lamborghini's, Ferrari's , BMW's, Audi's, Astion Martin are in the list.
I personally love him so much , clarifying that why only love your girlfriends or boyfriends, we can love anything in the world. Someone can love a movie. Someone can love a flower .
People have changed the meaning of love. Why do they think love is only when they love a girlfriend/ wife or a boyfriend/husband .. I personally believe love is that when we do anything for anything in this world. Sorry for my philosophy 😛 .
Always my idol, god, love CR7 till my last breath
BY Manish Dalvi