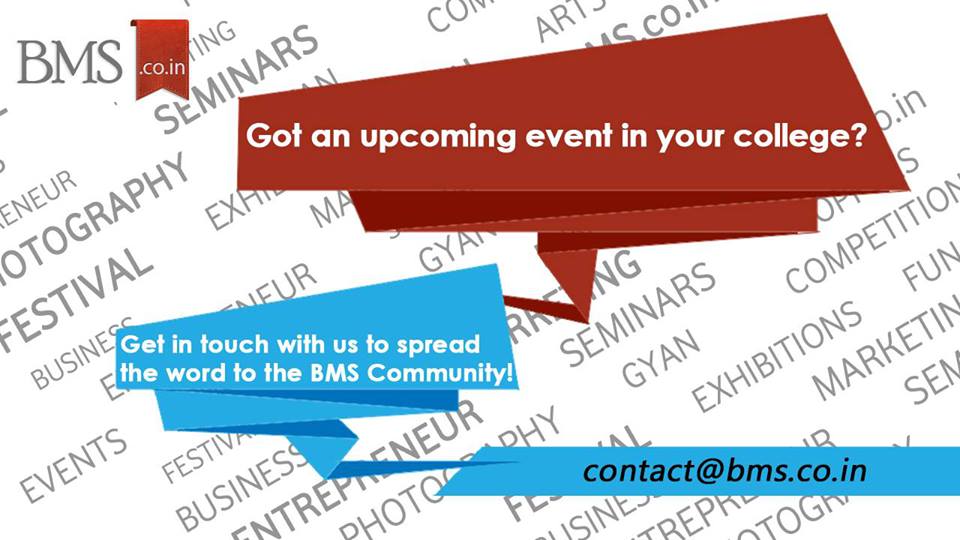 Wanna make your college event / fest successful?
BMS.co.in would love to be the 'Online Media Partner' for your College Event / festivals.
Events could be: Call for Papers, Seminars, Conferences, Competitions, Fests, Essay Competitions, Debates etc.
BMS.co.in is Mumbai's most popular and No. 1 website for BMS students. BMS.co.in is committed towards sharing useful information for BMS students and connecting BMS students across 100 BMS colleges in significant ways.
College events' organisers are welcome to use our reach and traffic to publicize their events through our platform.
With so much time, money and effort going into the planning and organisation of any event, we'll make sure that it's a successful one!
Here are our stats:
Page views (monthly): 3,00,000+

Facebook fans: 28,000+  (https://www.facebook.com/bms.co.in)

Email subscribers: 18,000+

Colleges Reach : 100 BMS colleges (Ref: http://www.bms.co.in/tybms-aggregate-toppers-2013-of-100-colleges/)

Students Reach: 18,000 students all over Mumbai colleges
 Know more about us at : About BMS.co.in
In case you wish to make BMS.co.in as your event's media and marketing partner, you can contact us at [email protected] to publish your event.
As your online media partners, Our sure-shot deliverables include:
3 Post updates on the website "College fests" section – (http://www.bms.co.in/category/campus-life/college-fests/)

2 Facebook updates of your event on our official facebook page (https://www.facebook.com/bms.co.in)
What we want in return:
A mention of BMS.co.in as the 'Online Media Partner' on your official webpage, fanpage etc.

Logo of BMS.co.in in all official communications (brochures, banners, emails, announcements etc.)

Marketing communication / writeups, posters, status updates should be mailed by the college itself to [email protected]