Karan Grover (Dil Mil Gaye fame) /Dr.Armaan and Jennifer Winget  got married in April 2012 while his previous marriage to Shraddha Nigam had lasted for merely 10 months.

Karan Grover broke this news on twitter




"For all those who are concerned, you might have heard that Jennifer and I have separated and will soon be getting divorced. I just wanted to confirm that it's true. The decision has been mutually agreed upon and the reasons are too personal to share. What happens between only two people know…all else…merely speculations and assumptions…nothing more…this much I wanted to share…thank you always for all your love…" Karan had tweeted.
While both Karan and Jennifer have decided to not share the reason for their separation, media reports have stated that Karan's closeness to his 'Alone' star Bipasha Basu could be the key reason.
Few pics of Karan and Jennifer when they were happily married..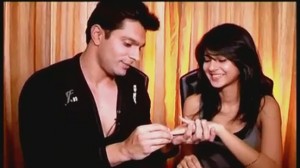 WATCH: Jennifer Winget admits her marriage to Karan Singh Grover is over
Karan will soon be seen opposite Bipasha Basu in Alone while Jennifer Winget is currently in London shooting for Kunal Kohli's film.