It is 2014 sneakers are poised to replace every pair of high heels in your closet. And you know the best part? You can wear them with absolutely everything, including skirts and dresses.
1. Pop-O-Color Sneakers:
Not-so-classic Vans take q monochromatic ensemble to a whole other level, and that level is called fun. Sneakers are so big right now, they deserve to be the star of your outfit. Go bold. Go bright. Go printed!
2. Jewelry Sneakers:
Matching your shoes to your bag? Gross. Matching your sneakers to your jewelry? FABULOUS!
3. Tough-As-Chiffon Sneakers:
Wanna wear chiffon without looking like a bridesmaid? Simple white T-shirt, reflective shades, a grab-and-go clutch, arm party, and a killer pair of studded Chucks. Done. Slaying it.
4. More-Comfortable-Than-Boots Sneakers:
You probably aren't trying to pull a fast one on us, but at first glance you might mistake that monochromatic-socks-and-sneakers combo for a pair of flat black boots. Then you'd look again, realize it's infinitely cooler, and stop whatever you were doing to go buy some new socks of your own.
5. Couture Sneakers:
When it comes to couture sneakers, the Chanel approach is monochomatic all the way, even when it's an irridescent, mint green sort of monochromatic. Especially then.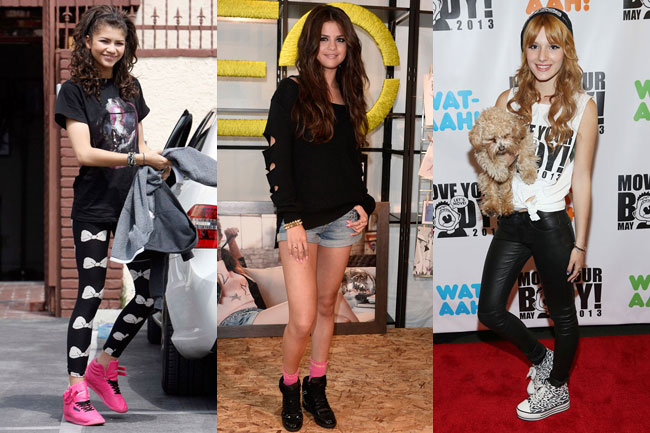 6. Golden-Rule Sneakers:
If  you'd gone for a full-on gold sneaker, the outfit probably would have felt pretty cheesy — matching your belt to your shoes is so passé — but those gold studs are just right. They play off your belt and bag strap perfectly, not to mention your  gorgeous golden locks.
7.Gettin'-Shit-Done Sneakers:
Think you can't wear sneakers to the office? Think again! Almost every  lady obviously has places to go and things to do, and those gravely streets can be murder on a pair of heels. Besides, that little pop of burgundy absolutely makes the outfit, so office-dressing conventions be damned. Those sneakers are keepers.
-MISBAAH MANSURI
The following two tabs change content below.
Latest posts by Riya Lokhande (see all)