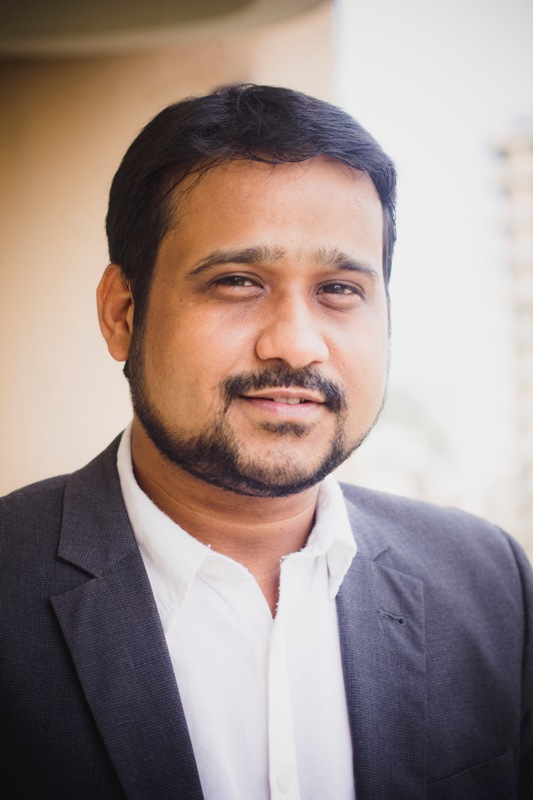 Name: Vinay Jaiswal
Company: Vastradi Enterprises
Facebook/Twitter Id: https://www.facebook.com/Vastradi ; https://twitter.com/viswal
Tell us something about yourself?
 BE , Computer Science (IIT Roorkee); MBA International Business (WIU)
Vinay Jaiswal, Co-founder
An IIT Roorkee alumnus having a degree in Computer Science & Technology, Vinay has worked in various MNCs like Ericsson, Hughes Software for more than a decade, starting as a Telecom Software Developer and then as a Sales & Marketing professional selling Telecom VAS, Hardware and Software solutions. He also had a stint in his family business of Inverter & Batteries which gave him valuable insights into retail / wholesale Sales & Marketing strategies while handling both B2B and B2C aspect of the business.
When his better half and co-founder, was looking to start off something of her own to fulfill her dreams of becoming an entrepreneur and also be around her passion of fashion and Art jewelry, Vinay, equipped with an MBA degree in International Business, saw a huge opportunity, which pans across not just the Indian market but also caters to global Indian diaspora and foreign buyers, due to deeper penetration of Internet and Facebook. Once decided to become a co-founder and investor of Vastradi there was no looking back.
Coming from a business family, Vinay always had this passion for entrepreneurship & start-ups and has also been instrumental in driving the start-up community in Gurgaon along with Headstart while organizing their first "Startup Saturday" event in Gurgaon.
All that learning he has gathered over a period of his career, coming quite handy, whether it is making a business plan, go-to-market strategy or developing & refining this e-commerce store to cater to always increasing customer traffic coming their way from India and abroad.
Write to him at [email protected] about Technology, Marketing, Investment related queries about Vastradi Jewels.
Suman Dash, Co-founder
Since her childhood, Suman was exposed to all forms of art and encouraged to follow her own inspiration. She always loved collecting one-of-a-kind jewelry pieces. She has a knack of combining semi-precious gems, irregular stones and fine metals with expert craftsmanship. She says "I became a jewelry retailer following a fascination for anything beautiful. It occurred to me that a jewelry piece is the smallest object one can wear that also tells stories. My most joyful experience is when I sell a piece, and people seeing it place orders for similar pieces!"
She is a traveler and loves to add fine pieces of jewelry in her basket from all over the world which also resonated well with both her Indian and global  Customer's choice and now she designs & curates jewelry pieces not only from India but from several other parts of the world as well.
By qualification, an Engineer in Electronics & Telecommunication, Suman left her cushy job 5 years ago so that she could spend quality time with her family. And now a Mother to a 2.5 yr old daughter (equally fond of fashion jewellery at her age), she started her journey of Vastradi jewels 2 yrs back along with her husband & co-founder.
A strong believer of Women Empowerment,  Suman also co-founded Pitaara, an exhibition / event group for Mompreneurs, who needed support & a platform to showcase their work or newly formed businesses to a wider audience
Write to her at [email protected] about Products, Fashion tips & Trends, Supply Chain, Procurement, Operations, Logistics, Customer Service queries about Vastradi Jewels.
Tell us something about your business. 
Story Behind Vastradi Jewels
Started with an initial humble investment of few hundred Rupees and some experimental posts on Facebook page almost 2 years back, Vastradi has come a long way to become a well-known brand and a One-stop shop for Retail & Wholesale of Premium Costume, Fashion and Silver Jewelry.
Vastradi offers Premium, hand-picked and hard-to-find Indian/international jewelry to our most-discerning customers worldwide.
In our online store and offline studio, you will find the ultimate and trendy women's fashion jewelry. If your taste is urban Indian, Boho, designer chic, retro, or eclectic then you'll love our gear!  We bring you the best mix of unique and ethnic inspired costume jewelry at fantastic prices!  Exotic earrings, necklaces, bracelets, bangles, rings, anklets, and more from all over the World!
Whether you need strut the red carpet, glow in the candlelight of a romantic dinner, enjoy cocktails in lavish cosmopolitan lounges, share secrets at casual book clubs or play away, our collection will easily present you with glamour and grace!
What is your philosophy towards work?
Who we are
We are a team from varied backgrounds starting from Technology, Mobile, Marketing, Customer Service to Software development & Testing. We take pride in our customer service and always believe in not just in customer delight but to achieve the level of customer ecstasy. Trying our best to serve our customers, even if sometimes, is beyond our scope. Please DO NOT hesitate to send us a mail at [email protected] for any complaint or suggestions to improve our services.
Whom do you admire as your role model? And why?
Role models are aplenty starting my businessman father who taught me to always be fair in your dealings with partners, vendors & customers, pay your vendors on time, believe in quality (you may not gain much in short term but long term it is always rewarding), long-term advantage of saving and investing to build for future, being hands-on.
Steve Jobs is another role model, who was always pushing the limits on the end-user experience and product designing. Even though our organization is very small right now, putting on a few hours extra to focus on user experience and design always helps.
"Management is core to every individual, organization & society." Give your views on it.
One tends to use his/her management skills in every stage of life. Whether managing your daily routine, managing your team or coordinating with your neighbor or society member while managing day-to-day activities in life. A bit of polishing, knowledge of processes, knowledge of already existing best practices helps a lot when an actual situation demands to apply them.
Name 3 qualities of prime importance that a businessman should possess.
Honesty, humility, always be yourself.
According to you, what are the challenges for Entrepreneurship today?
Access to right kind of mentor who can guide an entrepreneur in the right direction. How to scale up without losing balance between profitability and growth.
Can Entrepreneurship be taught in B-Schools/Management Institutes/Colleges?
Not really, but it can definitely give you the confidence to take a plunge, especially if you do not have any family background or experience in entrepreneurship.
Is the Name of the Institute from where a student pursues his/her Graduation/Post Graduation or other courses important while setting up your business?
Name of the institute is just a filter which has used their testing process to filter you from the rest on the various parameters which are supposedly required for Business but there is still a lot to do and prove yourself and scope left in business despite of you may have lost on a big institute name. Name of the institute may have some impact for the first year of your business comparatively but it does not guarantee any success, just like you have equal chance to success even if you are not from a big name institute.
Do you think today's economy is conducive for a new venture to start upon?
Absolutely! In fact today is the right time to start since cost of labor would be low due to unemployment; people around you who may have earned their money early are looking to invest in new ideas. Finding a right idea/business is challenge which will always be there, whether economy is good or bad.
"Earning more & more is the motive behind any business." Is it justifiable?
Earning cannot be the only motive behind any business. It is NOT sustainable. One cannot or should not earn at the cost of the society or core values. There has to be some value for everyone; for your employees, customer, shareholders, investors, vendors, society. If any one of these is not being considered, it will be very difficult to sustain in the long run.
Share with us the most enjoyable moment you had experienced on work.
There are many moments that you enjoy at work, although as a startup business owners/founders need to do all the routine jobs as well, but then it is like creating and bringing up your own baby. You see it growing in front of your eyes and every moment you feel a sense of satisfaction.
Sharing is the keyword here. Most of the students in any form of education learn the most by sharing information from each other, from industry experts etc and that is what BMS.co.in is offering a platform for and I think this is a great initiative and one of the serious responsibilities that you have taken upon to yourself.
COMPANY PROFILE
History- We are almost a 2 year old enterprise, learning on –the-job, from other existing ventures and applying that back into business to grow further.
Vision/Mission-
Mission-> VASTRADI sets out to offer Premium, Hand-picked and Hard-to-find Indian / international jewelry to our most-discerning customers worldwide.
Vision-> To become the most admired company for our existing and potential customers who are looking for any product that exist in our portfolio.
Products & Service- Fashion, Costume, Designer Jewellery made in Brass, copper and other alloys
Marketing Strategy-
Facebook Marketing, Exhibition, Events
Existing Market Presence-
Catering to Indian as well as countries like USA, UK, UAE and Malaysia.
Future Plans-
Short to mid-term plan is to grow and become #1 hybrid (offline/online) model enterprise in retail of fashion, ethnic, designer Jewelry segment
Long term plan to enter Gem & precious metal (Gold, Diamond, Silver, and Platinum) based jewelry segment.