An interview with Mrs. Komal Kamra, BMS Co-ordinator, R.K. Talreja College
by Sandeep Singh Sethi, Content Writer, BMS.co.in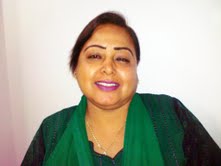 NAME : Mrs. Komal Kamra
COLLEGE : R.K.Talreja College For Management Courses.
LOCATION: Ulhasnagar , Camp:3
Tell us something about yourself.
I started teaching in R.K.T College since 1999 i.e. from the very first B.M.S batch. I have done MMS (fin), MMS (mktg), MBA (retail), M.Com , MPhil (com), and M.Phil in management degree and also have qualified NET (in management). Teaching is my passion and I got my MBA degree specially in retail so that I can teach well to my third year marketing students.
Tell us something about your college.
RKT is well organized college situated in heart of the town. Our college's management is run by very good, kind and humble officials. BMS course started in the year 2004.
When did you join this profession? What inspired you to choose this line?
I joined this profession before my M.M.S final year results in the year 1999.
I love to teach and teaching is in my soul and I'm very passionate about it.
As a coordinator, do you also teach any subjects? Which subject do you love the most?
I teach General management related subjects and specifically marketing. As I have done my MMS and MBA in marketing and retail. Marketing is my favorite subject.
 How are the roles and responsibilities of a coordinator different from that of a faculty? Do you like being a faculty or a coordinator? Which helps you to connect more?
A coordinator should be like a good friend and a parent figure to the students. You have to coordinate every teacher and student in the department and understand their point of views. While as a teacher you have to motivate the students and support them when they are right and turn them right whenever and wherever they go wrong.
A coordinator shall not pressurize anybody for anything, whether it be a teacher or any student.
 Who in your life has influenced you the most?
I seek inspiration from my spiritual master Param Saint Rajinder Singh Ji of Delhi. (He is the President of Sawan Kirpal Ruhani Mission)
What should BMS/ Management education mean to a student?
A student shall see it as a new opportunity to learn and grow. They should see it as a way to develop their personality and generate self confidence along with an intellectual mind.
 Tell us something about your college's fests/events and extra co-curricular activities.
We conduct 'AAGAZ' which is our annual inter collegiate event. And we also organize Mock Budget which is also an inter-collegiate event. Apart from these we keep on conducting various seminars and management games for the students from time to time.
Do you think that it should be made compulsory for the students to manage both studies and be a part of college fests/ events?
We encourage and help our students to participate in inter-collegiate fests and events. It basically depends on a student if he can manage both at one time.
 Tell us something about your college student's performances.
The students here have zeal and passion to learn. A drastic change in marks scored in 12th standard and third year can be seen. Students are very cooperative in all the activities.
More than 95% students passed the university third year exams this time.
 What are you future plans for the college?
The college aims to exceed in technology driven education field and is also keen on improving the infrastructure of the college premises. For students we will be conducting various workshops and seminars to grill them properly according to the practical industry levels.
 As a person, your mission and aim in life.?
"To be a good human being in true sense and to serve humanity in the best possible manner."
 Does your college provide any placement assistance to BMS students?
Every year we conduct placement through personal contacts of faculty and Principal.
Some of our students are recruited in TCS, WIPRO, RELIANCE and Tata group.
 What are the prospects after BMS?
There are many options like pursuing MBA or MMS or doing job, this depends on financial feasibility of students because sky is the limit as far as options are concerned given that the person is willing to go high.
 Any message to BMS students?
Keep yourself cool and happy along with your hectic projects and studies …..Don't Panic!
And for T.Y. students: Be sincere and regular in class and give at-least 2 hours daily to your books and you will simply… ROCK!
Any suggestion or feedback to BMS.co.in?
Doing a very good job!
The following two tabs change content below.
Latest posts by sandeep singh (see all)