An Interview with Prof. Chaitali Datta, BMS Co-ordinator, Tilak College
by Rohit Jain, Content Writer, BMS.co.in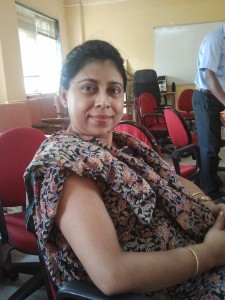 Name: Chaitali Datta
College: Tilak Educations Society's College of Arts and Commerce
Tell us something about yourself.
I was born and brought up in Jharkhand, Ranchi. I did schooling from ICSE board and further post-graduation in Economics from Ranchi. I shifted to Mumbai in 1998. From 2004 engaged in BMS profession and holding the post of Co-ordinator from the year 2008.
Tell us something about your college.
We started with BMS in 2003. The most important objective of our college is to build up student's confidence level, groom their personality, and focus on developmental areas such as honing their presentation skills, facing interview with confidence and facing the competitive world outside.
When did you join this profession? Who inspired you to choose this line?
i joined BMS profession from the year 2004. I was very interested in Management. I started teaching from the age of 15. I did my post-graduation in Economics. It has a lot of management in it. Got influenced by it and choose BMS.
As a Co-ordinator do you even teach any subject? If yes then which subject and what subjects do you love teaching?
Yes I teach. For Third Year BMS students i teach the subjects – Ethics and Corporate Social Responsibilities, Entrepreneur management S.M.E's, Indian Management thoughts and practise. At Second Year BMS I teach Research in Business Methodology and Managerial Economics. For First Year BMS students I teach Principles of Management. I love teaching all the students of BMS.
How are the roles and responsibilities of a Co-ordinator different from that of a faculty? Do you like being a Faculty or a Co-ordinator? Which helps you to connect more with students?
The role played by the Co-ordinator is not different from that of a role played by a Faculty. The responsibilities of a Faculty are high and we are questionable to everyone- teachers, students. If our role is not played properly, we have to justify. I enjoy playing the part of both. i m always connected with the students no matter what part I play and I always make it a point to help them in whatever way I can.
Who in your life has influenced you the most?
My family has influenced me the most. Next my Family. I saw every member in my family doing very in their own respective field. This inspired me to do the best in my field and became a prominent member in the society. Two of my family members have received presidency award in teaching. One of my family members has received Presidency award in social work. This inspired me greatly and i knew that I had to do something great in my life as well and serve the society. I opened my own NGO which deals with the rehabilitation of people who are addicted to drugs and alcohol.
What should BMS/Management education mean to students?
Management means managing yourself well. Management students should be able to easily adapt themselves with the environment and make them suitable for work that has been assigned to them. They should be backed by dedication and motto. They should always keep their promise and be a role model for others.
Tell us something about your college festival and extra-curricular activities?
The name of the festival conducted at our college is Prodigies. Each student makes sure that he/she participates and contributes to this festival as much as they can. The festival. Festival adds colour to their faces. They became hyper-active and do the entire arrangement of the festival-be it responsibilities, invitation and conducting various events throughout the festivals. It is a one day inter college festival. We find many talents coming up. Our students are so talented that they have even represented India's got Talent and bagged 2nd prize for dance. Many of the students in our college are being invited to judge various shows. The events in our festival include street shows, street plays, quizzing, dancing, etc.
Do you believe that it should be made compulsory for students to manage both studies and be a part of festivals?
It should not be made compulsory and mandatory for students to participate in college festivals but they sure should be encouraged as much as possible. It brings a turning point in a student's life. If students participate in college festivals, they come to know about their true calibre and potential.
Tell us something about your college student's performance?
The performance of our college students is quite good. Most of the join jobs as soon as they pass out. There are campus interviews and many of our students get selected and get good placements.
What are future plans for the college?
The future plans of our college include growing and doing our best to groom and develop our student's personality and to teach them to be more value oriented as well as excelling in academics. We want everyone in our college to be associated with humanity and have a humble attitude.
As a person, what is your mission in life?
My mission in life is to see others smiling. If they are happy, I'm happy, this feeling was imbibed in me when I started my NGO. Bringing smile on ones face and making them happy is the toughest job.
Does your college provide any placement assistance to BMS students?
Yes many companies come and recruit our students.
What are the prospects after BMS?
After completing BMS, you can either opt for higher education like MBA or go for good placements. Completing higher education is very important as it gives the student an edge over the others. Students should make sure that they imbibe education and their competent skills to excel in which ever field they choose.
What message would you like to give to the BMS students?
The message I would like to give to BMS students would be to always keep your spirits high. Never imitate others, be yourself. Share your feelings with your family, friends and teacher who can help you to cope up with stress. Take up life as a challenge and overcome all the hurdles that come along the way- as you cannot enjoy the beauty of the rose unless the thorn pricks you.
Your suggestions/feedback for BMS.co.in
The BMS.co.in has taken a wonderful initiate. Such initiative would be of great help to the students. I would suggest you to come up with the importance of internals and group activities. Be more inclined towards the paper pattern of T.Y BMS. Students are very confused with the syllabus as different textbooks cover different topics. This will provide valuable help to students.
The following two tabs change content below.
We, at BMS.co.in, believe in sharing knowledge and giving quality information to our BMS students. We are here to provide and update you with every details required by you BMSites! If you want to join us, please mail to
[email protected]