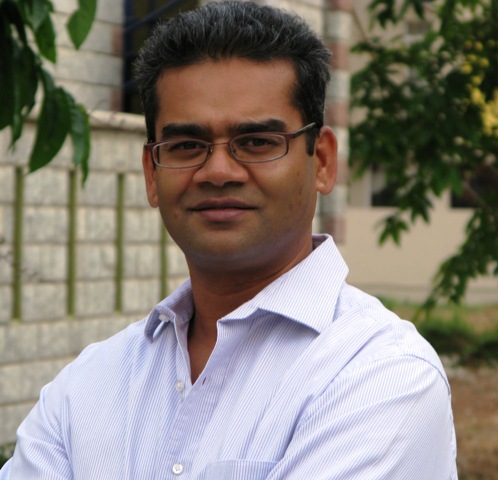 Tell us something about yourself?
I was born and brought up in the UK. I studied Physics at the University of Leeds before embarking on my career in IT. I began with a network hardware manufacturer before moving to BT plc, the leading telecoms service provider in the UK. My roles in BT encompassed pre-sales, account management and project management. I then came to India to study for an MBA at the Indian School of Business in Hyderabad. After completion of my MBA I joined Wipro in business development. I was posted back in the UK after a few months of work in India to look after a major utilities client. Subsequently I changed roles within Wipro helping drive their thrust into the UK public sector. I resigned from this role to pursue entrepreneurial opportunities and I am currently in the startup phase with VHTnow, a video production company.
Tell us something about your business.
VHTnow are Bangalore's fastest growing video production house. At VHTnow we specialise in the full lifecycle of activity (concept development, scripting, shooting, post-production) associated with the creation of top quality, compelling video content for uses such as :
·    Advertising
·    Corporate videos (training, informational, internal communications, branding, recruitment etc)
·    Online / social media marketing
If it's video you need – we can do it !
We are a rapidly expanding company. Our top management consists of a group of experts in their respective fields that provide a breadth and depth of experience that is unrivaled among our competition.
Antony Davis – A former television anchor with News9, Tv9 and also a senior correspondent with Times Now Tv, Anto, brings with him extensive experience of media. Having had the pleasure of doing productions/interviews with former prime ministers, sports legends, film stars etc.
Joe Francis – An MBA from the Indian School of Business (ISB), Hyderabad. Joe, has more than 16 years professional experience in the UK and India having worked with companies such as BT and Wipro. Born and brought up in the UK he brings a uniquely international perspective to our business.
Aditya Shanker – Film-making is in his genes, an MBA from Switzerland, Adi, has extensive international experience having worked and studied all over the world including the US, Botswana, Pakistan, Switzerland, Jordan, Turkey etc.
Put simply, we can understand your business and we know how to develop content that aligns perfectly with your business requirements. 
The technical people on our team bring with them between 5 and 15 years of production and animation experience. We use the latest high-definition equipment operated by skilled and creative personnel to deliver high impact, memorable content that will serve your business interests to the maximum.
What is your philosophy towards work? 
Do something you love not just for the money. When the going gets tough you will only be able to stick with it if you have a genuine interest in it beyond financial gain.
Whom do you admire as your role model? And why?
I don't have a specific role model as such but I do have many people that I admire for certain qualities that they possess. I particularly admire people who do something or achieve something that the prevailing wisdom thought was either impossible or not worth trying for. There are so many examples – Mahatma Gandhi vs The British Empire, Muhammad Ali vs George Foreman, Steve Jobs vs Microsoft. It takes a particularly strong resolve to do something when everyone else is telling you not to.
"Management is core to every individual, organization & society." Give your views on it.
Very true however the aims that each case drives for could be very different. In the personal case perhaps happiness is most important, for an organisation certainly financial metrics are important and for a society perhaps a sense of community is critical.
Name 3 qualities of prime importance that a businessman should possess.
Tenacity – if it was easy everyone would be doing it !
Sensitivity – you need to be sensitive to your customer's requirements and those of your stakeholders (employees, investors, partners etc)
Credibility – only if you believe in what you are saying will others believe too
According to you, what are the challenges for Entrepreneurship today?
Whilst the individual challenges in absolute terms may change from one era to the next in broad relative terms the challenge is always the same – how do you identify weaknesses in the current modus operandi and deliver improvements to these ? This applies to any industry.
Can Entrepreneurship be taught in B-Schools/Management Institutes/Colleges?
Certainly but as with many other learned activities only with hands-on engagement can one genuinely claim to have learnt this. You can't teach someone how to fall in love just by reading a book can you ?
Is the Name of the Institute from where a student pursues his/her Graduation/Post Graduation or other courses important while setting up your business?
It can be but only to the extent of the initial perception that it creates. Beyond those then the only thing that can help you is the actual ability that you can demonstrate.
Do you think today's economy is conducive for a new venture to start upon?
I think any economy is conducive for starting a new venture. There will always be better ways of doing things and as long as that is the case there will always be new businesses being formed.
Do you think introduction of Wal-Mart in retail industry will affect businesses to great extent? What impact will it have on Indian business industry?
New players in business can have a disruptive on the existing businesses however this is not necessarily a bad thing. Wal-Mart are established globally as a leader in supermarket retail practices and there is a reason for this. Businesses here should be considering the improvements that can be made to their own practices rather than just the threats.
"Earning more & more is the motive behind any business." Is it justifiable?
No because such a motive would tend to drive a self-defeating set of behaviours for that business. The seeds of any businesses success usually lie in delivering greater and greater customer value. This would be inconsistent with an exclusively profit based motive.
Share with us the most enjoyable moment you had experienced on work.
My most satisfying moment professionally came when an unhappy client that I had recently been assigned to account manage, which was on the verge of terminating services with us due to perceived poor performance, I successfully turned around the account relationship within a year to such a level that our customer satisfaction scores were at their highest, they signed a 3 year contract for additional services with us and volunteered to act as a reference account for us. It all came by focusing on the basics – say what you're going to do then do what you say !
COMPANY PROFILE
History- Just coming up to our first anniversary. Self funded by founders.
Vision/Mission- To be the video production house of choice for distinctive and engaging content  for businesses in India and globally
Products & Service- corporate video production and animation
Marketing Strategy- leverage our personal networks both online as well as offline to gain referral business
Existing Market Presence- Currently Bangalore but looking to expand fast
Future Plans- We will look to expand our product offerings to include 3d animation then look for global opportunities once we have consolidated our base in India
The following two tabs change content below.
I am Karan Mange, Assistant Manager- Social Media Initiatives at BMS.co.in currently studying TYBMS I am fun loving, extrovert, loves too much of talking, interacting with new people, exploring new places and many more. I go mad about music, especially sufi and classical. Interested in photography, graphic designing, media and music. want to explore world and see myself in the top management of a MNC.