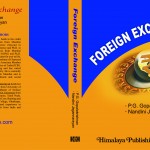 The authors have made an earnest to present this book on Foreign Exchange to present all major subjects in international monetary theory, foreign exchange markets, international financial management and investment analysis in a lucid manner. The book is relevant to real world problems in the sense that it provides guidance on how to solve policy issues as well as practical management tasks. This in turn helps the reader to gain a basic understanding of the theory and refines the framework.
The book is intended for the students of Mumbai University pursuing their third Year B.Com (Financial Markets) and can be used in other graduate and advanced undergraduate programmes in international or global finance, international monetary economics, and international financial management.
Subjects covered include:
– foreign exchange markets and foreign exchange rates
– exchange rate regimes and international monetary systems
– international parity conditions
– balance of payments and international investment positions
– open economy macroeconomics
– balance of payments issues and exchange rate movements
– global derivatives markets
– derivative financial instruments for foreign exchange risk management: currency futures, currency options, and currency swaps
– measurement and management of transaction exposure, economic exposure and accounting exposure
– country risk analysis and sovereign risk analysis
– foreign direct investment and international portfolio investment
The authors thank all those enabled in realising the book in the present form and more specifically Dr. (Mrs.) Usha Mukundan, Principal, Ramniranjan Jhunjhunwala College, Mumbai and host of well-wishers, friends and colleagues and the publishers, M/s. Himalaya Publishing House.
-Dr. P.G.Gopalakrishnan
-Mrs. Nandini Jagannarayan