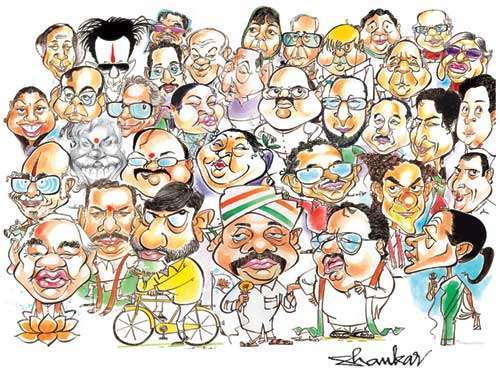 'Indian Politics', whenever this term strikes in our mind, our thoughts tend to move in a negative direction; especially when the biggest and the most important root cause of this mindset i.e. 'corruption' reveals its hold on Indian politics or 'India' as a whole.
"How to reduce corruption?"- This is a multimillion dollar question when it comes to Indian politics. It has got so much tightened at the root that it has become the most difficult task where to start from. And it's more obvious that one in million would dare to think of removing this barrier of growth. And even if he dares to initiate, there's not long time that he would be dragged inside the vicious cycle and the powerful holds of 'corruption'.
Apart from the whole discussion initiated, the persons involved are a different set of people. It is usually said politicians are meant to be the representatives of the general public. This statement is just in paper and in action only when the elections are at peak. Once they are selected for the 'hot seats' they remember only one thing 'position and power' and the most important 'filling up their pockets'. I don't want to be biased in this case. There are some politicians who are really worth for the post and they do work for the welfare of the society. But the fraction is very less. The politicians are mainly responsible to be a mediator between the common people and government. Government has got so much work at stake to carry out in order to run the country. In today's modern era of the constant growth and industrialization, Indian politics plays a very important role in boosting the integrity and undertake the required responsibilities in an effective manner. Corruption is an aspect that starts and ends with human mind. With increase in the literacy level with times and educated politicians taking up the lead, it is very much expected that they bring out a revolution in Indian politics and work towards the welfare of the society.
A perfect plan, a stubborn mind, an influencing attitude, and an urge to remove the 'corruption' aspect right from its roots are the main requirements that the new modern leaders should possess. At least now the youth should come out and lead to bring out a new revolution and fight against the 'corruption'. Politics is not bad; the people in it make it bad. If people change, it is bound that the mentality towards politics would 'change'. Our country needs good leaders; it needs energetic and passionate youth. It is a call of the 11th hour. If not now then never.
Wake up friends!!!
The following two tabs change content below.
Deepika Murlidhar
Friendly, Adventurous, positive attitude, forward thinking, and most importantly I am proud to be a libran. I love to write poems in marathi, hindi and english.I am planning to do MBA in finance in future. I am here because of my passion of writing articles and sharing my thoughts and I just love this site a lot as it helps students to come out with thier talents and its working on creating a great enthusiasm among students and bringing them under one network to work together. What else can be a good example of first step to revolutionize management education in a broader sense as this. Hats off!!!!! I wish to write articles so that I can reach many of my fellow friends and together we can work upon various aspects that needs our attention a lot especially our motherland India.
Latest posts by Deepika Murlidhar (see all)