Update: FYBMS Exam dates has been revised to 10th Nov 2016.
Here's a glimpse of the revised  circular.
Mumbai University dropped a bomb on students and more so on professors as it announced FYBMS exams to commence on 18th Oct 2016.
For FYBMS students the "Ignorance is bliss" mantra resounded well. This is the first time since the inception of the BMS course that the FYBMS exams will be conducted centrally through the Mumbai University. Until last year, colleges conducted their own exams for FYBMS and SYBMS course while only the TYBMS exam was conducted centrally by the university. Its a pandora's box and anyone's guess is as good as yours.
Professors are under the needle here as they have to somehow hurriedly complete the syllabus in record time. Usually they have  minimum 90 days of teaching before commencement of exam. With the Ganpati vacations and other holidays they have barely completed 75 days and probably only have 30 teaching days left.
Find attached : fybms-exams
TOI recently carried an article around the plight of teaching faculty undertaking professional courses offered by the Mumbai University.ms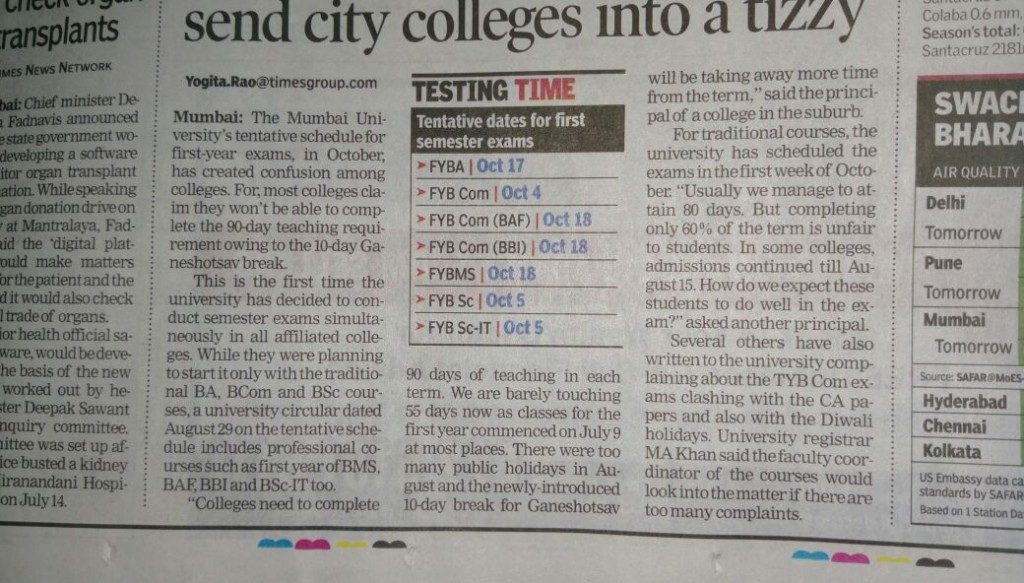 Looks like there are enough complaints around from the faculty coordinator of courses and there are good chances that the schedule may change.
We suggest FYBMS students roll up their sleeves and get to study or else it'll feel like there's a train-wreck coming your way.