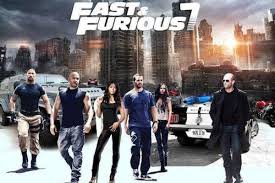 ' Furious 7' which was previously known as Fast And Furious 7 is an upcoming American Thriller Movie. It is Directed by James Wan and written by Chris Morgan. It is the sequel of the Fast and Furious 6.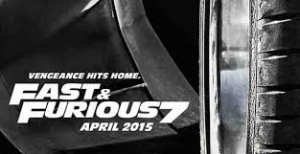 ALL THE ASPECTS OF THE MOVIE FURIOUS 7 :
1. Furious 7 is Directed by James Wan and it is Written by Chris Morgan. This movie will mark the last appearance of the actor Paul Walker (died due to a car accident). Furious 7 is set to release on 3rd of April,2015.
2. The plot of Furious 7  is A dead man's brother seeks revenge on the Toretto gang.
3. The cast of Furious 7 is magnificent having a great bunch of stars. They are as follows:
a. Vin Diesel                                                                              k. Kurt Russell
b. Paul Walker                                                                          l. Tony Jaa
c. Dwayne Johnson                                                                 m. Ronda Rousey
d. Michelle Rodriguez                                                             n. Nathalie Emmanuel
e. Jordana Brewster                                                                o. Djimon Hounsou
f. Tyrese Gibson                                                                       p. John Brotherthon
g. Ludacris                                                                                 q. Ali Fazal.
h. Jason Statham
i. Lucas Black
j. Elsa Pataky
4.  Brian Tyler, who has composed music for the 3rd,4th and 5th installments of the movie has done the music for Furious 7.
5. The budget for the Furious 7 film is $250 million. A very big budget for a good film with a good star cast.
6. The Distribution Company for Furious 7 is Universal Pictures.
7. The Production Companies  for Furious 7 involve:
a. Original Film
b. One Race Film
c. Relativity Media
d. Legendary Pictures.
8. The movie has an Indian Actor on board ' Ali Fazal' . He has been seen in many of the Bollywood Movies.
9. Furious 7 has been shot across 11 countries like Abu Dhabi, Tokyo, Atlanta USA, Toronto, USA are some.
10. The official trailer of Furious 7 :