There was a time, when people used to say their basic needs are food, clothe & shelter along with health and education. But nowadays my answer will be different and I hope it will not be a shocking reply for this question. I have little proud to say my basic needs are food, clothe, shelter and facebook!
This social networking site has not only become 'face' but also heart & soul of an individual. Guys like me, who are completely addicted to facebook are ok with late dinner but not with late logging. There is something different unexplainable joy of being online on facebook, checking updates and posting statuses. These days if you don't have a profile on facebook then you will consider as a 'down-market thing' by your mates. According to recent statistics facebook has crossed 12.5-million user base in India. Remember the days when Orkut was the foremost social networking site in India? Those days are long past, and pretty much everyone is on facebook now.
facebook is very much social though it takes continuous sitting in some first takes to become familiar with facebook. Somehow facebook is like travelling all over the world by just sitting in front of your computer table. It has so much fun to make friends, friends of friends. It's a perfect way to be in touch with our old friends and relatives don't matter where they are. facebook is a perfect place to express our views in front of the wide audience from all over the world. Games and applications are so much interactive and they are fun to play. But this facebook is also creating some problems while (reading) facing the books!
facebook is time consuming, and it is the main reason for getting less marks in exams day by day and to destroy written rules of any language. I received a habit of using short forms in my written and verbal communication because of 'facebook chat'. Many new words like lol, rofl, lmao, etc got added in my dictionary. You has became 'u', Life has became 'lyf', Expressions turned into smiles and even facebook decoded into 'fb'! I still remember the moment when I got scolded by one of my teacher for writing such short forms in my final exams. Especially during exams period it's become uncomfortable situation for all the `facebook folks' to make a balance between online time and study time. I have lots of friends who have quitted facebook due to lack of attention to study. Smile on their faces only can match up with those innocent lives that just got discharge from 'Rehab'. It really needs guts to come out of this addiction by deactivating our facebook account and I am so happy to say I don't have such guts!
I personally think facebook is creating loud impact on our daily life. My day starts with facebook and ends on the same destination. Though I am getting success to maintain the perfect balance in my social networking time and study time. This site has good as well as bad effects. It's upon you how you are going to manage yourself like the way you manage your facebook profile! All I can say is facebook is a drug and your addiction is 100% fixed. But facebook is going to control you? Or you are going to control facebook?
If you know the answers then have happy facebooking…!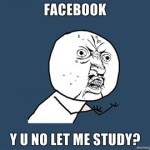 Is this also your story?
– Nakshatra