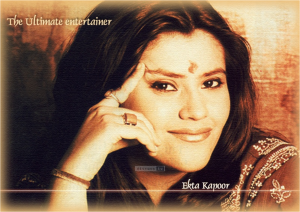 Love her or hate her, but you cannot ignore Ekta Kapoor. While the feminists hate her for producing soaps that they claim degrades the status of women, this doesn't cut much ice with most Indian families, who are absolutely lapping up her productions. So popular are her serials (all of which start with the letter K) that Ekta is now known as the Soap Queen of India.
And she deserves that title. She has produced over 50 soap operas that air across major Indian networks. Her influence in the Indian media is undeniable. She was named among the 40 Young Global Leaders 2006 by the Forum of Young Global Leaders, an affiliate of the World Economic Forum. In 2001, Asia week magazine named her among the 50 most influential communicators in Asia. In the same year, she won the E&Y Entrepreneur of the Year award, the first woman to receive the honour.
The daughter of yesteryear actor Jeetendra, films run in Ekta's veins. She's also a film producer, and has released five films to date, of which Kya Kool Hai Hum was the most successful. A sequel to it is being planned.
Ekta has often been the target of criticism for tackling themes like infidelity and divorce, using rehashed and repetitive plots and stories that seem to drag on and on. But the channel heads don't seem to mind, for her serials still manage to keep the audiences tuned in and the TRPs going.
For her entrepreneurial skills and achievements Ekta Kapoor was awarded with Ernst & Young (E&Y) Startup Entrepreneur Of The Year award in 2001.