The latest outbreak of the deadly Ebola virus in some parts of Africa could soon threaten Indian shores, according to a media report Wednesday. Approximately 45,000 Indian citizens currently live in African nations affected by the virus, and their return home could pose logistical and medical problems for the Indian government.
In Africa, the latest outbreak is estimated to have killed close to 1,000 people, most in the West African nations of Liberia, Sierra Leone, Nigeria and Guinea. Both Nigeria and Liberia have already declared an official state of emergency owing to the outbreak. The World Health Organisation( WHO)  has announced a $200 million fund to fight the outbreak.
But what exactly is Ebola? How does it spread? How can one contain it? Here's a quick pointer to all you need to know about the killer virus.
1) What is Ebola?
Ebola virus disease (EVD), formerly known as Ebola haemorrhagic fever, is a severe, often fatal illness in humans.  Ebola outbreaks have a case fatality rate of as high as 90%. Such outbreaks occur primarily in remote villages in Central and West Africa, near tropical rainforests. The virus is named after a river in Nigeria, near where the first outbreak occurred in 1976.
2) What are the symptoms of Ebola?
EVD is marked by sudden fever, intense weakness, muscle pain, headache and sore throat. These symptoms are usually followed by vomiting, diarrhoea, skin rash, impaired kidney and liver function, and sometimes both internal and external bleeding. Laboratory findings include low white blood cell and platelet counts and elevated liver enzymes. People are considered infectious as long as their blood and bodily secretions, including semen, contain the virus.
Other diseases should be ruled out before a diagnosis of EVD. These include malaria, typhoid fever, shigellosis, cholera, leptospirosis, plague, rickettsiosis, relapsing fever, meningitis, hepatitis and other viral haemorrhagic fevers.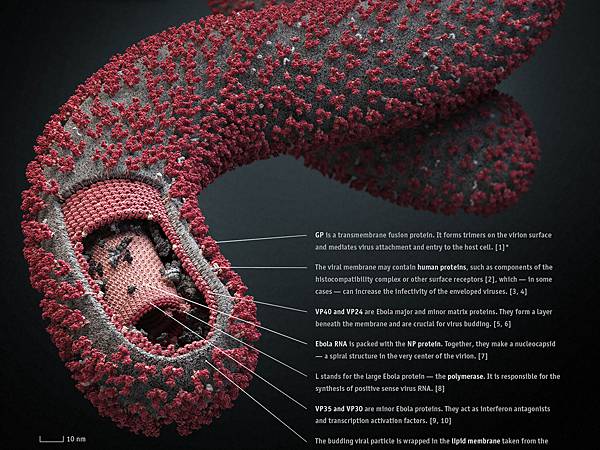 3) How long do symptoms take to show up? 
The incubation period, or the time between when the virus takes a hold in the body to the onset of symptoms can range from 2 to 21 days.
4) How does it spread?
The virus jumps between humans through direct or indirect contact with blood and body fluids. Medical workers have been infected when appropriate infection control measures have not been observed.
5) Is there any cure for Ebola?
Currently, there is no vaccine or cure for Ebola. Some vaccines are currently being tested, but so far none are available for clinical use.
There is also no specific treatment for Ebola. Patients need intensive supportive care; they are frequently dehydrated and require oral rehydration with solutions containing electrolytes or intravenous fluids.
7) How high is the risk for Ebola in India?
While no cases have been reported from India, there is always the risk of a carrier entering the country undetected, especially if the infection has not yet manifested any symptoms. The Union Health Minister has said that the government is putting in place a system to track travellers from or even transiting through affected regions once they enter the country.
SPREAD THIS IF YOU READ THIS!!!
BY HARSHVARDHAN SINGH.