Exam time!!! The most crucial time in a student's life. Those never ending revision notes, those infinite coffee mugs on the study table, ink splattered on our books, hands and practically everything besides us. We don't have much time to spare in the kitchen and prepare something that would take hours to cook and this moment, we crave for something that is made within minutes. So here I'm with some easy to make snacks that would not kill much time of yours and also would be tummy filling!!!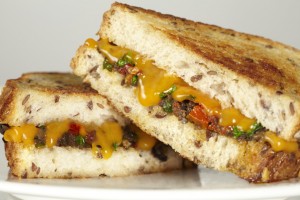 CHEESE SANDWICH-
INGREDIENTS-
2 bread slices
1 cheese slice
1 tomato
1 onion
Tomato sauce
Butter
Salt
Red chili powder
Pepper
Bread toaster
METHOD-
Slice tomato and onion in round shape.
Apply cheese on bread slice.
Put the sliced onion and tomato on bread.
Sprinkle salt, pepper and red chilli on bread.
Press both the bread slice together.
Toast it in toaster with butter.
Serve and have it with tomato sauce. 🙂
SPICY CHICKEN NOODLES-
INGREDIENTS-
Noodles cake
Chicken flavor powder (usually the one found in noodles pack)
3-4 tbs olive oil
Peas, carrots
Red hot peppers (2-3 depends upon how much you want your noodles spicy) fully crushed
Chicken, beef (depends on what type of meat you like)
Chinese salt (monosodium glutamate or msg) for taste.
1.5 cups of water
METHOD-
Boil noodles cake. Add flavor powder in the noodles (do not add too much water just add 1.5 cups of water or it'll make you noodles like mashed potatoes)
Now, take a small single carrot and cut it like french fries and grab some peas approx. 8-10 pods and boil them until fully cooked.
Cut chicken into small cubes and also boil it until fully cooked
Take a medium sized bowl and add 3-4 tbs of olive oil in it
Add 6-7 pinches of chinese salt in the bowl
Add crushed hot peppers in the bowl and mix an make a paste
Now add all the vegetables inside the paste and mix well
In the end add the drained noodles and mix until all the flavor is mixed with noodles
Enjoy…
CHEESE AND HAM WRAPS-
INGREDIENTS-
1 or 2 wraps (I prefer red pepper ones!)
1 tablespoon of mayo (light if you prefer)
1/3 yellow pepper, cut into strips
1 or 2 spring onions, chopped
Mixed baby leaf salad (or any sort of lettuce or salad leaves you like)
Sliced cheese (I prefer Gouda)
Ham
METHOD-
Spread the mayo on the wrap
Sprinkle on the peppers and onion
Lay on the cheese and ham
Put the salad on top
Wrap up and enjoy… Mmmmmmmmm…
Simple but incredibly tasty!
ENJOY!!!!!
THANK YOU!!!