All healthy recipes from the world especially Australia. Do try this healthy recipes and give your taste buds the versatility of the world's food.
FENNEL AND ORANGE BAKED FISH WITH ROASTED CARROT PARSNIP SALAD.
INGREDIENTS:
1 baby fennel.
400 gm baby carrots, peeled.
2 med parsnips (500 g) quarter.
1 sml red onion, cut into wedges.
¼ cup orange juice.
1 ½ tbsp. cold-pressed.
Extra virgin coconut oil.
2 tsp orange rind, finely grated.
1tsp fennel seeds.
400 gm firm white fish fillets (2 each of 200 g)
1 tbsp. macadamia oil.
1 tbsp. apple cider vinegar.
2 cups baby rocket leaves (arugula leaves)
1 lemon, cut into wedges.
METHOD:
Preheat the oven to 200 degree Celsius.
Trim fennel, reserve 1 table spoon finely chopped fennel fronds. Cut fennel into thin wedges.
Mix the fennel, carrots, parsnip, onion, 2 tablespoons of the orange juice and 1 tablespoon of the coconut oil in a medium baking dish. Roast for 20 minutes.
Rub combined remaining coconut oil, rind and fennel seeds all over the fish, then season. Remove the dish from oven. Place fish on top of vegetables. Roast about 10 minutes or until fish is cooked as desired and vegetables turn brown in color.
Meanwhile, whisk oil, vinegar, reserved fennel fronds and the remaining orange juice in a medium bowl until combined well.
Remove the dish from oven and transfer fish to plate, cover to keep it warm. Add vegetables and rocket to bowl with dressing. Toss it gently.
Serve the fish with salad, lemon wedges and extra fennel fronds if you like.
This takes a time of about 45 minutes and serves 2.
ROASTED BEETROOT AND LENTIL SALAD.
INGREDIENTS:
4 baby golden beetroot.
100 g Swiss brown mushrooms, halved.
1 tsp extra virgin olive oil.
1 cup French-style fine green lentils.
1 cup baby spinach leaves.
½ cup loosely packed fresh flat-leaf parsley leaves.
Balsamic and herb dressing
2 tbsp. balsamic vinegar.
2 tbsp. extra vinegar olive oil.
1 tbsp. pure maple syrup.
1 tbsp. fresh chives, coarsely chopped.
METHOD:
Preheat oven to 200 degree Celsius.
Trim beetroot, leaving some (2inches) of the stem attached, reserving half the trimmed leaves for the salad. Wash and drain well. Wrap beetroot individually in aluminum foll, place in a small baking dish. Post for about 30 minutes or until tender.
Combine mushrooms and oil in a small bowl, add to baking dish for the last 5 minutes of beetroot cooking time.
Meanwhile, cook lentils in a medium saucepan of boiling filtered water, for about 25 minutes or until tender. Drain it.
When beets are cool enough to handle, peel them and then cut into quarters or halves.
To make the balsamic and herb dressing, place ingredients in a screw top jar, season to taste and shake it well.
Combine beetroot, mushrooms, lentils, reserved beetroot leaves and parsley with the dressing in a large bowl; toss well to combine.
It takes 50 minutes to cook and serves 2.
CHOPPED SALAD WITH ITALIAN VINEGARETTE.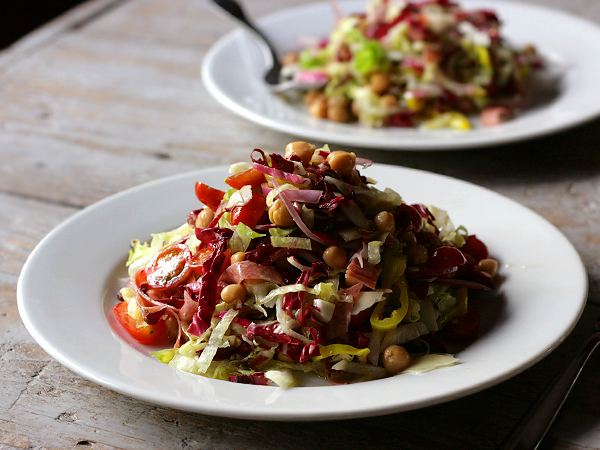 INGREDIENTS:
1 cucumber.
3 radishes.
2 spring onions.
2 big handfuls mixed lettuce leaves.
Vinegarette
3 tbsp. olive oil.
1 tbsp. red wine vinegar
½ tbsp. clove garlic, minced.
¼ tsp dried oregano.
½ tbsp. parsley, chopped.
METHOD:
Cut the cucumber in half and deseed it, then chop it into chunks of 1cm.
Slice the spring onions and radishes, then combine all the salad ingredients in a bowl.
To make the vinegarette, combine all the ingredients in a jar. Seal the jar with a lid and then shake until the ingredients are well mixed and pour over the salad. Toss before serving.
The cooking time takes about 30 mins. Preparation time – 15 minutes. It serves 6.
THYME SMASHED BAKED POTATOES.
INGREDIENTS:
8 small medium potatoes.
Olive oil.
½ cup sour cream.
2 tsp whole grain mustard
1 handful rocket leaves
8 small sprigs of thyme.
Sea salt and pepper to season.
METHOD:
Preheat the oven to 200 degree Celsius. Line a baking tray with foil and place the potatoes on it. Drizzle them with olive oil and season with salt.
Bake in the oven for 30 minutes until soft and starting to brown.
Remove from the oven and using a fork, press down firmly on the top of each potato so you smash it slightly, but not completely.
Drizzle with a little olive oil then add a small dollop of mustard on top of each one. Then layer some rocket and sour cream and finish with a sprig of thyme, salt and pepper.
Preparation takes 8 minutes and cooking time is 30 mins. Serves 4.
BERRY FROZEN YOGHURT.
INGREDIENTS:
250g strawberries, hulled and quarted.
250 g blueberries.
300g gluten-free Greek yoghurt, you can use unsweetened ½ cup sugar.
2tsp vodka or strawberry liqueur.
METHOD:
Begin this recipe a day ahead. In a bowl combine the strawberries, sugar and liqueur. Stir and leave aside to sit for approximately 30 minutes, until the sugar has dissolved.
Remove a couple of spoons of the strawberries and ¼ cup blueberries and set aside.
Place the remaining strawberries, the sugar mixture and blueberries into the blender and blend until smooth. Por the blended strawberries through a fine sleve to remove the strawberry seeds. Return the berry sauce to the blender with the yoghurt and blitz until smooth.
Pour the mixture into your ice-cream maker and process according to instructions. Pour into a suitable freezer container and swirl through the whole berries, which were previously set aside. Freeze for 6 to 12 hours until firm.
You could also use a mixture of raspberries or other berries to the same weight. If using frozen berries simply thaw on paper towel before blitzing in the blender.
Scoop it in your cup and enjoy the soft taste. 🙂
BY SANGITA MAITY