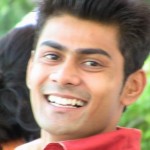 Name-Dhaval.N.Shetty
College-Bunts Sanga Mumbai, Anna Leela College Of Commerce And Economics
Tell us about yourself
Well i m 21.. a complete extrovert.. some times I do act like a introvert.. but all in all … a fun out going person to be with…A Libran by nature, so have the in-built quality of charming people…lol…In simple words guys I m What i M. And i love to win and have learned from my failure and have grew stronger and stronger as days have passed by
Tell us about your college
Well I m in Bunts from past 2 years…and the reason i got in to this college was of 2 reason.. 1st i didn't make it any where else and 2nd i was new to this country and bunts was a easier option for me to get in….but i must tell you being a new college , we have received or i can say had a pleasure of having one of the best possible faculties in Mumbai teaching us.. i really enjoyed my college… still we didn't have the advantages like other big or reputed colleges in Mumbai.. but it was fun to make our own identity…
I am at my second year and i enjoy the exposure and the support my college has given me…for that i would like to thank my College Principle Dr.K.S Cheema , My college Coordinator Harbir Singh And my group The G.W.I…( Savio, Me, Geff)
When did you join BMS? Which year you are in?
Well i joined BMS 2 years back and am in my SYBMS.
What inspired you to choose BMS and not any other course?
The reason I am in to Bms is due to 1 factor.. i always wanted to be a marketeer….since the time i understood what i wanted to be, i wanted to be a marketeer…
I have always loved the concept of team work and team building, the presentation approach, the leadership skills, the usage of both manipulative and diplomatic skills to get the work done
those factors have always thrilled me..and the mixture of all these factors i found in 1 Course called BMS…
The other reason for me to do Bms is my Dad.. He has always been my inspiration and have always idolize him…
I always try to be like him. He's a Pro – marketeer and a guy with a vast experience of 25years in sale industry….so i have grew up seeing him with meeting and business tours and all and all.. So i have always been fascinated by all those things…
So these were the reasons for me to do BMS.
According to you, what is BMS all about?
Bms is all about discovering yourself…
Its all about how you become a man from a kid, its all about how you make your worst fears come alive and then make your weakness into your strength….
What's special about your college? What do you love about it?
Well whats special about my college is they let me do what ever i want to..lol
In other words. they have always encouraged me and have respected my thoughts… the amazing things about my college is my faculty and my canteen…
I love my college faculty.. because i have never seen such cool faculties like this in life and my canteen guy whom we call Anna make amazing food..from awesome chicken curry flavor Missal pav to amazing chic.rice.
Who is your favorite teacher/faculty? Why?
My favorite teacher has to be Harbir singh….
why is he, well he really inspired me to think out of the box.. i still remember what he said on the 1 st day of his lecture.. "he said you all are 120 in strength and its not easy for me to remember each and every1s name. So what are you gonna do , to make sure i remember your name….the opportunities he gave me and then the moral support, i just cant describe them .. but all in all whenever he has given me any opportunities , i have delivered it to him beyond his expectations.. so its been a fun ride of Give and Take.
What has BMS life taught you?
It has taught me how to be a leader, a team builder, it has taught me how to be diplomatic and the best thing ever it has done is.. how to be a winner
What was the happiest moment in BMS? The saddest? The most memorable?
The happiest was when i had to give my presentation for Mehar sir, i.e. for business environment and for that we had to make a business plan with entire costing and detailed work..with icing on cake, him acting like a investor. So in simple words it was a project which he screwed us the most and the 1 we enjoyed the most… thanks to my group member savio and geff..
and later on after presentation getting a standing ovation & praises for around 5 min that too for a sir who teaches in 1 of the best MBA college in Mumbai called Bajaj's
saddest-when i lost the race to be a topper by around
Memorable- Me hosting My college fest Jallosh in a full pack Audi with a capacity of 800 and above
Who in your life has influenced the most?
My Dad- Mr.Nitin.S.Shetty
As a BMS student, what changes would you like to bring in management education?
There should be more stress on practical knowledge then theoretical knowledge.
What would you advice someone planning to do BMS?
well me advising some for Bms….
Its a course better then B-com and all in general…
but in a serious note if you guys are planning to make a career in management world i.e. marketing , HR , finance then BMS is the place.
3 Questions you would like to ask an MBA?
1) Is it must to get a work experience for MBA.. what will happen if I do my MBA straight after my BMS
2) Is doing MBA from India better than abroad
3) What's Next After IIM
What are your future plans?
My current future plan is to finish my BMS in the duration of 3 years..lol
then shoot for my masters in Marketing
And then by 26/2 get married.;)
What are you expecting out of BMS?
To give me a firm base for my future and a added edge over others i.e. from other stream of course
How do you find BMS.co.in? What help should it provide in future?
Its really a interesting site and it should emphasize more on new college and try to promote them rather then taking the same old college which we know from past 50 years
The following two tabs change content below.
We, at BMS.co.in, believe in sharing knowledge and giving quality information to our BMS students. We are here to provide and update you with every details required by you BMSites! If you want to join us, please mail to
[email protected]