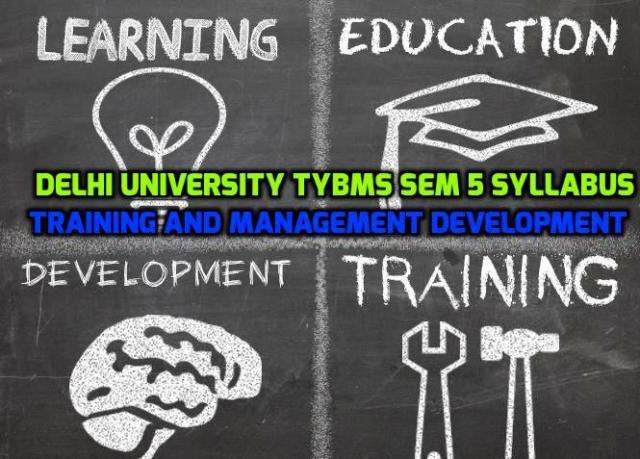 Training and Management Development refers to bettering the performance of individuals and groups in organizational settings. Training and Management Development aims to make sure the availability of a skilled and willing workforce to an organization.
Training and Management Development subject aims to familiarize DU BMS students with the concept and practice of training and development in the modern organizational setting.
Here we present Delhi University TYBMS Sem 5 Syllabus – Training and Management Development:
Unit 1 – 9 lectures
Organization vision and plans

Assessment of training needs

Setting training objectives

Designing training programmes

Spiral model of training
Unit 2 – 9 lectures
Tasks of the training function

Building support

Overall training capacity

Developing materials

Strategic planning

Networking

Designing training programmes
Unit 3 – 10 lectures
Training methods

On the job training

Job instruction training

Apprenticeship

Coaching

Job rotation

Syndicate method

Knowledge based methods

Lecture

Conferences

Programmed learning

Simulation methods

Case study

Vestibule training

Laboratory training

In-basket exercise

Experiential methods

Sensitivity training
Unit 4 – 10 lectures
Management Development Programme Methods

Under study

Coaching

Action learning

Role play

Management games

Seminars

University related programmes

Special projects

Behavioural modeling

Job rotation

Case study

Multiple management

Sensitivity training

Post training

Input overload

Unrealistic goals

Linkage failure

Training impact on individuals and organizations

Training evaluation

Evaluating programmes, participants

Objectives and worthwhileness of training
Unit 5 – 18 lectures
Organizational Development (OD)

Definition and Foundations of OD

Managing the OD process

Action research and OD

OD Interventions

Overview of OD Interventions

Team Interventions

Inter-group and Third party peacemaking interventions

Comprehensive OD interventions

Structural interventions and the applicability of OD

Training experiences

Issues in consultant – client relationships

System ramifications

Power

Politics and OD.
Textbooks and References:
Effective Training, Systems, Strategies and Practices – Blanchard P. Nick and Thacker James W

Organization Development, Behavioural Science Interventions for Organization Improvement – French Wendell, Bell Cecil and Vohra Veena

Training and Development – Lynton Rolf and Pareek Udai