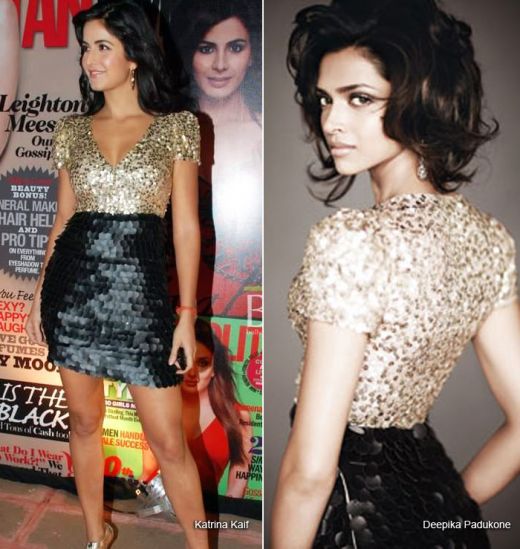 Deepika Deepika!! Katrina Katrina!! Everyone has a favorite actress and when it comes to these two superstars everyone is their fan for fashion. These two actresses have built an image of themselves. I am personally a fan of these two ladies: D is it for their dancing skills or for their fashion sense, everything they do is unique and new. So today in the house are Deepika fans and Katrina fans; p lets see who gets the maximum points for their fashion sense…let the match begin!!
Characters:-
Deepika as well as Katrina have played variety of roles. Like veronica in cocktail or leela in ramleela Deepika has always chosen different characters. On the other hand Katrina has played the girl next door in bang bang and sexy sizzling dancer in tees mar khan.
Specialty:-
Deepika is a very experimental person with edgy dressing while Katrina has a very subtle soft style. Deepika was the person who has brought back the much in-trend palazzo pants. Katrina brought the sweet look in ajab prem ki ghazab kahani.
Casual wear:-
When these both former-models are off-duty they have a very relaxed yet classy sense of dressing be it going to airport (where they are mostly spotted) or roaming in the city chilling.
Vintage feel:-
Katrina being the pale girl has a subtle vintage feel to herself like a Grecian goddess look. On the other hand Deepika has an equally vintage vibe with her winged eyeliner look.
De-glam:-
These both ladies know how to show case their acting skills with their choices of roles but the one thing that make these movies special is the way they style them. be it deepika's role in khelien hum je jaanse or in aarakshan all these characters were deglam but still she managed to make a mark. Not to be left behind Katrina has played a full-fledged de-glam politician in rajneeti.
Indian dress:-
It is said a women looks the best in a sari well then these ladies are really very intelligent to have flaunted their personal customized sari styles on different occasions. Deepika and Katrina surely know how to give men a run behind them; p
Award shows:-
For awards, both the ladies love gowns. Deepika on one event has worn a blue two piece gown while Katrina has sported a golden sequined gown.
Promotions activity:-
Deepika goes for a plaid skirt and shoulder cut-out top outfit while Katrina takes the safe zone with blazer and jeans for band bang
Songs:-
The latest to be heard is lovely song by Deepika in sizzling outfits. Katrina has a dancing leg where she has gone from the much appreciated Sheila ki jawani to chikni chameli to the mashalla belly dancer(she surely has great dancing skills) Deepika had done her dancing song in dum maro dum,were she had to play a role of drug-addict.
After all this discussion and the votes that we have received from the public…we the winner of "miss fashion queen" is with flying colors and outstanding performance and the winner is Deepika padukone!!! We would all like to congratulate Deepika padukone for this auspicious win: D. (No offence to Katrina fans') thank you everyone for reading this article and if anyone has any suggestion about this topic please feel free to comment below.
The following two tabs change content below.
Latest posts by Kimaya Parjane (see all)