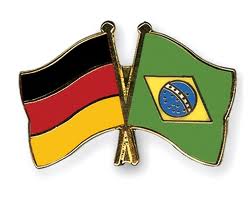 FIFA World Cup semi final is a stage where 4 great footballing nations fight it out for a place in the World Cup Grand Finale. 4 teams Brazil, Argentina, Netherlands and Germany going to fight out for the ultimate glory. The first semi final was between the home country Brazil and the European giants Germany.
Two of the most successful teams in World Cup history, with Brazil having 5 World Cup titles to their name being the most successful, while Germany having won it 3 times. It was a game every Brazilian was waiting for as it was in their own country and Brazilians had high expectations.
Brazil were without their star player Neymar, who was out injured for the remaining world cup and their Captain Thiago Silva who had two yellow cards so one match ban, while Germany were pretty well equipped in the attack, defense, midfield and goalkeeping.
Some were expecting a tough ride for Brazil's World Cup aspirations as they were without their very best players and Germany were playing some good football having such a immense talent in their side. But the match ended in a very shocking scoreline which even the worst Brazil hater or the biggest German fan would have not even dreamed of.
The game ended 7-1 to Germany and it was a unbelievable. The stadium was shocked as in mere thirty minutes Germany bagged in 5 goals and the game looked pretty over just in a few minutes. Brazil were never beaten so badly and for more than a decade they had not lost a competitive game in their own backyard.
This game did break records but one of the most iconic records broken was from Miroslav Klose, the German backed in his 15th World Cup goal surpassing Brazil's great Ronaldo who was watching the game in the stadium. Klose became the first player to be in 4 World Cup Semi Finals, this shows the class of the German team from so many years and the class of the great loyal player.
The excitement is still not over yet as Argentina will be playing the Netherlands and the winner will play Germany in the finals while the loser will play Brazil for the third place finish. So just wait and watch the remaining three games of this exciting FIFA World Cup 2014.
– Jainam Jhaveri