Audi Audi Audi the name itself is enough to describe its legacy this company has made throughout its journey. Audi is well known for its craftsmanship its design its comfort & it's a symbol of luxury. This German company was setup in Germany in 1932(though the company started in 1800's but it was re-introduced in 1932).
Audi A3 is a compact executive car which was first produced by german engineers in 1996 which is a car in hatchback segment & was a highly popular at that time due to its comfort level its sleek & stylish design & the great craftsmanship it has. A3 hatchback can be categorised in two generation i.e first generation(1996 to 2003) & second generation (2003-2013). Now Audi is launching its Sedan version.
Audi A3 sedan was unveiled at 2013 Geneva Motor show & in India it was unveiled at 2014 Auto Expo. This car is answers to Mercedes Benz CLA & BMW 1 series. Audi A3 is available in both variants i.e Petrol as well as diesel.The company says that this new model is a cross between coupe & three-box design. It has an eye catchy exterior design i.e it symbolizes its craftsmanship for which Audi is well known & it also has a new improved headlights ,lines on the side & stance of a car.Its interior is expected to have to have the new features of such as Audi MMI & the new safety features.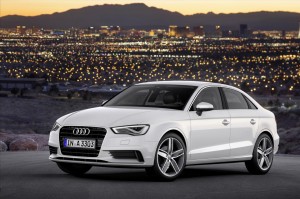 This A3 sedan is available in both variants which will be having 1.8 litre TFSI unit developing 177bhp & 250Nm torque both the engines will power the wheels via seven DSG gearbox.The thing which we can say about this car is it will create a tough competition in sedan segment.
BY VARSHA CHACHAD
The following two tabs change content below.
Latest posts by Ayesha Patel (see all)