Christmas is coming near and all food and cooking lovers have already started summing up different recipes and the experimentation. Here I present you with my hand of help. Explore. Enjoy.
Paleo raw lemon cake.
Ingredients:
Base – 2 cup unsweetened desiccated coconut.
¾ cup pitted dates (soaked in boiling water for at least 10 minutes).
1/3 cup coconut oil.
FILLING:
3 cups shredded coconut.
1 cup coconut milk.
1/3 cup coconut oil.
2 tbsp. raw honey (or rice malt syrup).
1 lemon, juiced.
1 lemon, zested.
DIRECTIONS:
CAKE: line a 20 x 20 cm slice tin with baking paper. (Or use a silicon mould.)
Start with the base. In a food processor (we use our vitamin) whiz the drained dates and coconut oil until a smooth paste forms.
Add the coconut and whiz until combined.
Transfer the mixture into the prepared tin and press out evenly to cover the base. Place into the freezer.
FILLING: in a food processor (we use our vitamin) whiz the coconut until crumbly.
Add the coconut oil, coconut milk, honey, lemon juice and ¾ of the rind and whiz until smooth. Pour the filling mixture on top of the base, shake the slice tin to even out the top.
Add the remaining lemon rind to the top of the cake.
Place the cake back into the freezer for at least 1 hour before slicing and serving with mixed berries.
This serves 12+, preparation time: 30 min. cooking time _ 1 ½ hrs.
Paleo Pumpkin, carrot and Bacon Fritters.
INGREDIENTS:
4 eggs.
3 bacons rashers, diced.
2 cup butternut pumpkin, grated.
2 carrots, grated.
2 shallots, chopped.
3 tbsp. almond meal.
1 tsp paprika.
1 tsp chili flakes.
1 tsp cumin.
Coconut oil for pan.
DIRECTIONS:
Fry up the bacon and shallots in a large pan until just cooked.
In a large bowl combine all the other ingredients, the mixture should be a little sticky. Add the bacon and shallots and mix well.
Melt a little coconut oil (or use excess bacon fat) in the fry pan on medium heat.
Place about 5 spoonful's of mixture into the pan, press down slightly with the back of a spatula.
Cook for about 2-3 minutes or until golden brown, carefully flip and cook the other side.
Place all the cooked fritters on a plate, cover with foil to keep warm and continue the fabulous fritter fun (aka cooking) with remaining mixture.
TIP – you can serve with guacamole. It would be delicious. You can also add a slice of grilled veggies or extra eggs and bacon.
Serves 12. Preparation: 30 min. cooking time: 1.1/2 hrs.
Grilled Rainbow trout with watercress, caper dressing.
INGREDIENTS:
1 rainbow trout, filleted and pin boned.
Extra virgin oil.
Black sea salt flakes.
Freshly cracked black pepper.
DRESSING: handful watercress
¼ cup fresh dill.
¼ cup fresh dill.
¼ cup plain yoghurt.
1 tbsp. salted capers, rinsed.
Juice of ½ lemon.
DRECTIONS: to make the dressing, in a food processor add watercress, dill, yoghurt and process until smooth. Then add whole capers and lemon, stir and set aside.
Turn your grill on a medium heat and line a tray with foil.
Place your fillets on the tray and drizzle with olive oil. Turn the fillets to coat in olive oil and place side down. Cook for 45 minutes, depending on the thickness of your fillet, until almost cooked through. The fillets will continue to cook. Carefully transfer fillets onto serving platter.
TO SERVE: season fillets with black sea salt, cracked pepper and serve the dressing to the side.
 Serves 2, preparation: 15 min, cooking time: 5 min.
Mango, passionfruit and mint Pavlova.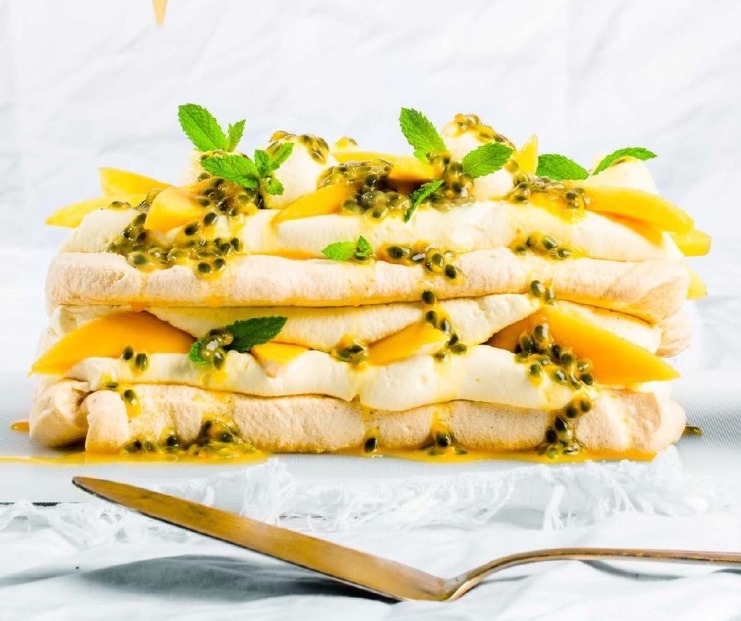 INGREDIENTS: Pavlova.
1 cup pure icing sugar
4 free range egg whites.
1 tsp gluten-free corn flour.
CREAM: 300 ml cream.
¼ cup pure icing sugar.
1 tsp vanilla bean paste.
TOPPING: 2 mangoes
Skin removed and sliced
4 passionfruit, pulp removed.
Springs of mint.
DIRECTIONS:
Preheat a fan-forced oven to 120 degree C.
Using a pencil, trace two rectangles on baking paper. Add a dot of oil in each corner of the tray to hold the baking paper down. Place template pencil side down on a large rectangle tray. (Or two small trays.)
Clean the bowl and whisk of your stand mixer (or metal bowl and hand beaters) and dry thoroughly using a clean towel.
Sift icing sugar into a small bowl and set aside.
Whisk egg whites on a high speed until soft peaks form. Gradually add icing sugar, a tablespoon at a time, while beating until the mix is glossy and stiff peaks form. Sift in corn flour and fold in using a spatula. Transfer your mix into a large resalable freezer bag (or piping bag), push it to the bottom of bag, twist top and cut off the tip. Pipe mix in large lines inside the border of your template. Bake for 60 minutes, turn off the heat and let it cool completely inside the oven (you can let it cool overnight inside the oven.)
CREAM: sift icing sugar into a small bowl and set aside. Beat cream on a medium speed until it starts to thicken. Add your sifted icing sugar and vanilla bean paste. Beat on a high speed until stiff peaks form.
ASSEMBLE: place one Pavlova onto serving dish. Spoon on (or pipe) half of the cream on top. Add a few pieces of mango and mint. Place remaining Pavlova on top. Arrange remaining cream, mango, passionfruit and mint on top.
Serves 8. Preparation: 15 min. cooking time: 60 min.
BY SANGITA MAITY