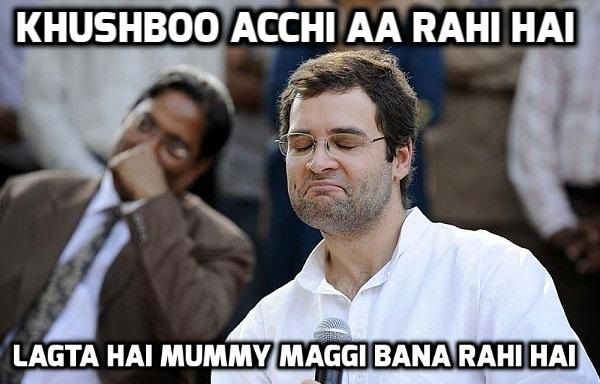 Children and youth's favorite Maggi noodles has been banned from atleast 6 states all over India because it contains excess amounts of lead. Nestle still claims the noodles were safe and it has withdrawn the product due to an environment of confusion for consumers.
Here we present 25 Funny Maggi Facebook Status And WhatsApp Messages To Share With Your Friends:
1) Best way to nullify the effect of Lead in Maggi is to eat it with Coke / Pepsi containing pesticides.
2) Forget Minorities, Even Maggi is feeling unsafe under Modi Government.
3) Now i should call my curly friends by their names! Maggi banned :p
4) A moment of silence for those thriving on MAGGI noodles, please!  msg – Monosodium glutamate not Messenger of God
5) Santa se interview mein pucha gaya:
Agar 2 minute ke liye aapko PM bana diya jaye toh aap kya karenge…..??
Santa: Hum Maggi noodles banayenge.
Intrviwer: Why….??
Santa: 2 Minute mein toh sirf Maggi ban sakta hai..
Intrvwer: Agar 5 saal ke liye bana diya jaye….??
Santa: Hum 5 saal ke liye PM nahi banenge.
Intrvwer: Why….??
Santa: Itni Maggi kaun khayega…??
6) Bahut namkeen hai vo jise ham chahte hai,
Har pal khuda se usi ko mangte hai,
dil tarasta hai use paane ko,
Kya aapka dil nahi korta maggi khaane ko?
7) Maggie band hone per.
sabse jayda pareshani.
un ladkiyo ko ho gi jo apne .
bio data me likh rakha hai.
.
.
'i like cooking

8) If Maggi gets banned, many girls on FB will remove "cooking" from their hobby list 🙂
9) Boy- I Love u…
Gal – but I don't love you…
Boy – agar kal tum ne mujhe i love you nahi kaha to…
Gal – to kya karo ge?
boy – to main Maggie kha k apni jaan de dunga…
10) Girl: Kya kar sakte ho mere liye?
Boy: Maggi kha skta hun.
Girl: itna pyar karte ho mujhse 
11) Khane ko kuch de do bahen…
Bahen : 2 Minutes roko bhai..
Bhikari : Bhago bhai maggi bana rahi hai…
12) 2-minute silence for hostelites, single men and women. Maggi
13) If Maggi gets banned, what example will professors use in B Schools for misleading Advertisement?
14) Girls with curly hair will now hear "iss ke baal dekh Top Ramen jaise hai" magi ban
15) India will tolerate differences over Religion, Caste, Money, Politics, even Cricket but say 1 word against Maggi and we will destroy you!!!
16) Go ahead & ban everything, why don't you? I'll eat grass. Oh, wait, that's for cows right? Okay. I'll live on love and fresh air. Maggi Ban
17) If Maggi is banned, half of India's population (including me ) won't be able to say, "I can cook for myself" anymore.
18) Badnaam toh keval daaru hai
Warna Kidney toh maggi ne bhi ki hai.
19) Lord Shankar – Mera Trishul kaha hai?
Goddess Parvati – Rajnikant le gaya
Lord Shankar – Kyun?
Goddess Parvati – Maggi khaane ke liye.
20) Only thing which my wife can cook is "Maggi". Now, I will die of starving.
21) Ban on Maggi ?Are u serious?
So now you mean Rohit Sharma will hav to stay more than 2 mins on pitch ??
22) All girls on Facebook status changed from 'I know cooking' to 'I used to know cooking'
23) To all the men who say they can cook, don't lose heart! There's still 'boiled egg' left in your culinary resume
24) BREAKING: Japan to import 2 million high-lead Maggi packets to use as nuclear radiation shields
25) Never date a girl named Maggi. She might misLead you.
26) Accha hua Maggi ban hone se pehle Graduation complete ho gayi.
27) 2 minute mein taiyaar hone wali humari Maggi aaj humare beech nahi rahi. Uski Aatma ko shanti mile, ab 2  minutes ke liye apna Facebook aur WhatsApp band karein.
Disclaimer: The jokes and images have been compiled together from various sources all over the internet and are intended to entertain the readers.