Dhanteras / Dhantrayodashi / Dhanvantari Jayanti / Dhanawantari Jayanti is celebrated on 21st October 2014, Tuesday. It is the first day of the Diwali festival which lasts for 5 days. We wish you a Happy and Prosperous Dhantrayodashi / Dhanteras.
Don't miss to check:
Latest SMS, Wallpapers : Happy Diwali / Divali / Deepavali / Dhanteras / Bhai Dooj / Kali Puja / Bandi Chhor Divas 2014
Here we present 2014 Dhanteras SMS, Wishes, Messages, Greetings in English Free Download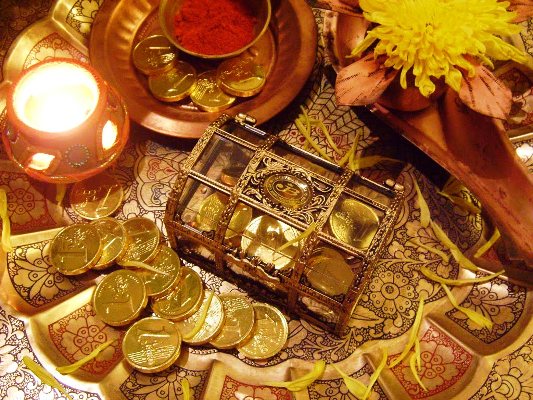 1) Give 10 things in life:-
D = Dhan
H = Health
A = Anand
N = Nature
T = Talent
E = Enjoyment
R = Romance
A = Aitbar
S = Saubhagya
Wish you & your family
Happy Dhanteras..!!
2) May goddess Laxmi bless your business
to do well in spite of all odds like
the enduring charms of gold and diamonds
Happy Dhanteras
3) On the auspicious day of dhanteras puja
Hindus follow the tradition of purchasing precious metals
gold, platinum or silver, in the form of jewellery
coins or utensils, for good luck.Happy Dhanteras
4) May this Dhanteras Celebrations
endow you with opulence and prosperity
Happiness comes at your steps
Wishing many bright future in your life
Shubh Dhanteras
5) May this Dhanters Light up new dreams, fresh hopes, undiscovered avenues, different perspectives, everythin bright & beautifully and fill ur days with pleasant surprises and moments.Happy Dhanteras to you and your family.
Related Stories: