India is a country of emerging economy, infrastructure, fashion, tourism, sports etc. but one thing that our country has been a hands down winner for centuries passed are the cuisines those are loved not only by the Indian fraternity but also those living in the variegated corners of the world. These dishes are not only famous for their aroma, color, flavor, but also for the clandestine spices those tickle our taste buds and make our tummies flutter. So get ready to go on this ambrosial ride as we explore our Indian cuisines famous throughout the world. Bon appetite!
Biryani– Known as the Mughlai cuisine of Delhi and Awadhi cuisine of Lucknow, Biryani is a mixed rice dish from South Asia. Made with spices, rice, and meat or vegetables, it is enjoyed as a main dish all over the world. Uncertain of its origin, it is best made in Hyderabad.
                                                     .
Dosa– A fermented crepe made from rice batter and black lentils, the earliest mention of dosa or dosai could be found in the Tamilian literature of  the 6th Served with sambhar, wet and dry chutneys and Indian pickles, dosa is rejoiced in all the south Indian states and also in Malaysia, Singapore, and Sri Lanka.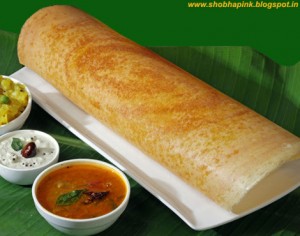 Butter chicken– Also known as murgh makhani, butter chicken is a classic staple food in Indian cuisine. It is not only relished in India but is also crammed on overseas. A Punjabi cuisine invented by Mr. Kundan Lal Gujral, founder of Moti Mahal Deluxe is sure a must to taste.
Malai kofta– A spicy, sweet curry with stuffed vegetable or meat balls, malai kofta is better known as a mughlai cuisine with loads of crème and spices. It is an immaculate dish for every occasion not only in India but also in many other countries like Pakistan.
Tandoori chicken– A dish originated inPunjab before the partition of India and Pakistan, tandoori chicken is a popular dish in the Indian subcontinent. Made with roasted chicken and wrapped in yoghurt and spices, it is a mouth watering dish relished by all. It is made in a cylindrical oven known as tandoor.                                                                                                                                                       
Samosa– Samosa or sambosa, originated from middle east is a fried or baked pastry with savory filling such as spicy potatoes, onions, peas, lentils and sometimes beef, lamb or chicken is perhaps the oldest breakfast served in India and now also all over the world. It could be eaten with chutney or could have it alone.                                                                                                                                  
Rogan josh– An aromatic lamb of Persian origin is a signature dish of kashmiri cuisine. Rogan josh means cooked in oil at intense heat, it is one of the most savored dishes in india and across the world.                                                                                                                                  
Dhokla– A vegetarian food item also known as dhokra originates from the Indian state of Gujarat. Made with a fermented batter derived from rice and chickpea splits, it can be eaten for breakfast, as a main course, as a side dish, or as a snack. Mentioned in a jain work, it is amongst the loved dishes in the world.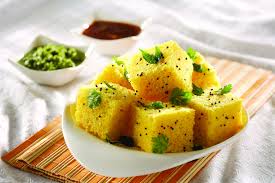 Chicken tikka masala– Believing the claims of origin, this delicious dish was in invented in an Indian restaurant in united kingdom. Chicken tikka masala is nothing but roasted chunks of chicken in a creamy, spiced and an Orange coloured gravy making it a very tasty and popular dish.
Chole bature– Originated in Punjab, chole bature is a stomach filling cuisine which includes curried chickpeas and fried flour bread. It is occasionally decorated with onions and coriander to give it an ambrosial look. A heavy breakfast that could also be enjoyed as lunch, dinner or any occasion you want.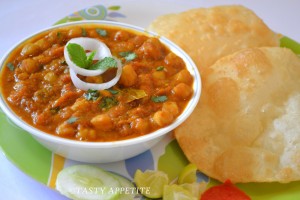 Thank you!