Narsee Monjee College of Commerce & Economics is a leading college affiliated to Mumbai University and will be celebrating its Golden Jubilee Year in 2014-2015. It was established in 1964 by Shri Vile Parle Kelavani Mandal (SVKM), a professionally managed trust with a large number of prestigious academic institutions, under its umbrella and around 6200 students are enrolled in various courses and programmes offered by the college.
Although the College started by focusing on education to make students self-reliant and to prepare them for careers in the commerce field, it gradually extended the scope of its activities to include the molding of the overall personality of the students. With greater competition in every walk of life it has become a necessity to prepare students to shine in all areas.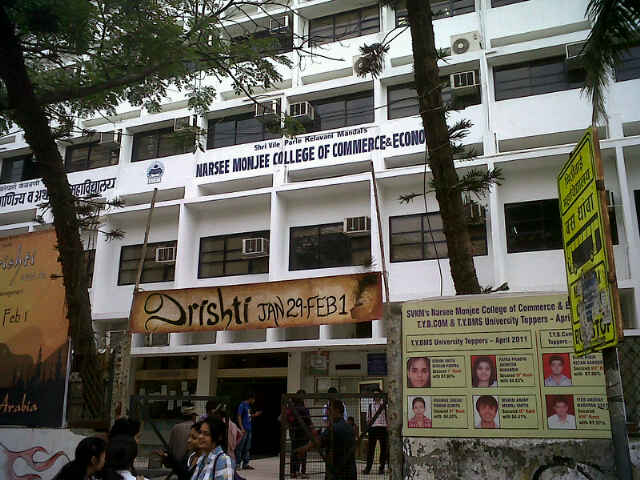 Now let's see what is so unusual about this college.
Situated in the Juhu-Vile Parle belt:
You can reach NM college in about 7-10 minutes walking from Vile Parle Station  (W. Railway & Harbour Railway). Well there are no major landmark in the locality probably because NM is a LANDMARK ITSELF.
NM is known for its nerdy – geeky yet stylish crowd :
If you get through the admission process just feel lucky because 'LIFE AT NM ' is what not-so-lucky-students dream of.
Gujarati Speaking Minority:
The Status of NM as a minority institution for the Gujarati Linguistic Community is a significant achievement in providing access to students from the Gujarati Speaking Community, to the most coveted college in the Commerce and Business Management Streams.
N M College is also known as C A Factory:
NM is probably one of first college in Mumbai to be recognized by Institute of Chartered Accountants of India, Institute of Company Secretaries of India and Institute of Cost Accountants of India to conduct the Oral Training programmes for all the courses offered by these institutes.
Successful Alumni's:
The Alumni of NM College has made its presence felt in various sectors of economy be it finance, marketing, HR, Information Technology, Entertainment Industry, Sports, Academics, as Entrepreneurs, Music, Dance, Drama, Films, Television, Print Media, Politics etc. N M has a long list of distinguished alumni to prove this.
League of intellectuals:
Results makes NM's head high with honour as the students do exceptionally well in exams with the help of extra-ordinary tutors.
T.Y.B.Com. Class at the March 2013 examinations was 99.52% with 818 students securing at least a first class of which 719 students secured distinction. We have got the 2nd examinations conducted for T.Y.B.Com.
The result of TYBMS Class (Semester V and VI taken together) is 98.95%. Out of 95 students who appeared for the examination 78 students secured distinction.
The result of TYBAF Class (Semester V and VI taken together) is 100%, out of 57 students who appeared for the examination 52 students secured a distinction and 05 students got a first class.
The result of HSC (regular) Examinations conducted in February 2013 was 99.63%. The result of HSC(Vocational) Examination was 100%.
Experienced Faculty:
Most professors (Junior College as well as Graduation courses) are highly experienced, and quite friendly as well.
Course-specificAttendance:
The junior college is rather strict about attendance, which means you need to maintain about 60% to be on the safe side.
Graduation is far more liberal; many students pursuing CA/CFA often have single digit attendance and get away with it.
Practical Knowledge:
The faculty takes active interest in developing the overall personality of the students by motivating them to participate various activities. Various associations and activity groups are formed to involve students in the activities relating to advertising, Marketing, Music, Dance, Drama, Elocution etc. They organize various events like Melas, Seminars, Competitions every year to accomplish their objective and involve students in them so that students have practical knowledge.
     10.  The Umang:
Umang is the annual intercollegiate, cultural festival of Narsee Monjee College of Commerce and Economics. Over a period of just 12 years, it has become as integral a part of NM College as sky high cut-offs or compulsory attendance. Ever since its bricks were laid in 2000, Umang has been striving hard to out-do itself with every passing year.
BY BASMAH ANSARI