You love him or you hate him you simply can't ignore Salman Khan. The 'bhai' of Bollywood this hunk has women swooning over his topless avtaar and men replicating his Dabaang look all the time, but well there are many who do not approve of this Super star's fame. 
With Salman it usually is a case of extreme love or extreme hatred so here are the Top 10 punch lines to avoid saying to a Salmanoholic unless you wish to get a nice 'KICK'.
1. Does He Even Act?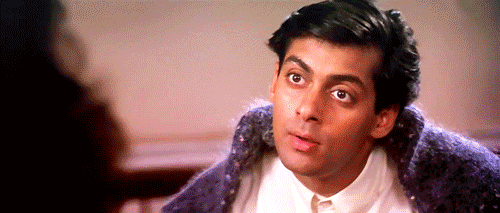 He is himself in every movie and not the character he is supposed to be! In fact at times the character is modeled up on his own character! But Salmanholics find every move of Bhai at the zenith of perfection, so they will never agree!
2. You Know He's Been In Jail!!
Yes killing black bucks and drunk driving over people are facts but you say this to a Salman fan and the immediate revert would be "It's not his fault, OK!"
3. Does Being Human Actually Do Anything?
Except for flashing busty actresses with tight tee's does Being Human really do something? At this point the Salmanoholic grabs his Being Human tee and strangles you with it.
4. He Sleeps With All His Co- Actresses
Sangeeta, Asihwarya, Sneha, Katrina, Zarine, etc, etc. see you can't deny this one.. and then Salmanholics will smile and say Didn't you see Koffee with Karan? he's a Virgin!
5. Dude…He Can't Dance!
And the minute you say this every Salman Fan in the room will start doing the towel dance to shut you up!
6. He Sings So Bad No?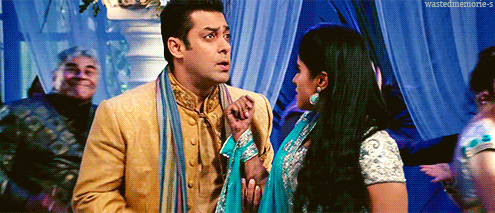 And now you shall bear the song 'Hangover' a zillion times before you invariably accept that he's good at whatever he does, Singing included.
7. Why Does He Always Have To Remove His Shirt?
The point when he removes his shirt is the time when Salman fans can't help but start hooting or whistling in the theater, so that being the high point of a movie they won't even bother to argue with you.
8. His Accent Is So Bizzare Mahn!
This is the part where the Salman Fan starts getting personal because you have crossed all limits, then starts a volley of comments on your lack of abilities to appreciate what a power packed dialogue delivery Salman has.
9. Is There Any Sense To His Songs?
Hangover.. Ek garam chai ki pyali.. Do you want a partner.. Character Dheela or Chalti hai kya 9 se 12 the list of bizzare yet popular numbers by Salman is endless and you can't stop a Salmanholic grooving to them ever!
10. SRK's Next Movie Looks So Promising!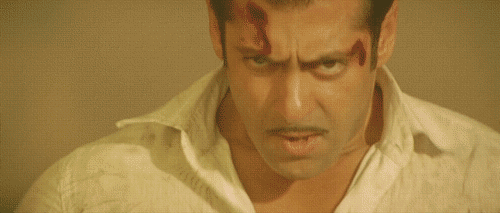 This is when you should start running because if you praise SRK in front of a salmanholic, they will make sure you go black and blue immediately!
The following two tabs change content below.
'Ever Learning, Ever Evolving, Never Giving up' sums up www.bms.co.in's Content Manager and passionate writer, Ami. She is a BMS graduate who has freelanced in the past with the top Indian newspapers and magazines. Apart from writing she also likes to indulge into travelling, photography and social work.
Latest posts by Ami Pandya (see all)