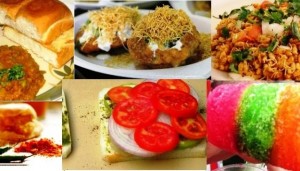 Hungry on the streets of Mumbai? NEVER…! No matter what time of the day it is, you'll definitely find something to munch on in the busy streets. From breakfast items like "Dosas and Pohas" to lunch and dinner "Thalis", you are sure to find something to satisfy your stomach. But what are the special foods that we can't live without?
Here is a rundown of the 10 most popular foods of Mumbai:
–  Vada-Pav Do I even have to tell about it? I mean doesn't everyone already know that it's the heart of Mumbai food items. Anywhere in Mumbai, you are going to find this. And the spicy 'sukha' chutney with 'mirchi'…OMG…!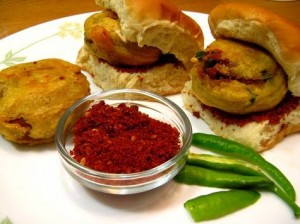 –Bhel-Puri This savoury snack or should I say the beach favourite chat made of puffed rice with tomatoes, onions and other veggies and tangy tamarind sauce is just yummy…. That is why it makes it in the chart of the favourite foods.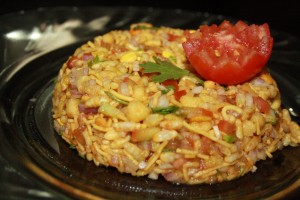 Pani-Puri often found on the streets of Mumbai, Pani-Puri is definitely one of our favourite chats. With a filling of potato, chickpeas and sprouted moong dipped in the sour, tangy and spicy water along with sweet chutney, pani-puri is just heaven in mouth.
Pav-Bhaji Drenched in a puddle full of yummilicious butter with a squeeze of lemon on top, the bhaji is a finger-licking goodness fondly eaten with pav. This is the salivating experience you have been yearning for!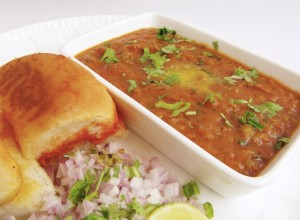 Anda-Bhurji had a late night outing…hungry but all joints have closed down? Don't worry. You are surely going to find a street corner stall selling anda bhurji (scrambled eggs). Cooked with Eggs mixed with onions, tomatoes, green chilli and coriander; it is served with hot buttered pav.
Frankie The Mumbai version of wraps and rolls, Frankie can be very versatile. From basic potato and onion fillings to Chinese and special Jain versions, the filling are in every variety.
Falooda This cold and refreshing beverage traditionally made up by mixing Vermicelli in milk and rose syrup also contains basil seeds and is generally topped with ice-cream. Today you get various flavours and different toppings to go with.
Missal-Pav A special Maharashtrian dish, it is a spicy curry usually made up of sprout of mataki and chilli powder gravy and is topped with farsan or sev, onions, lemons and coriander.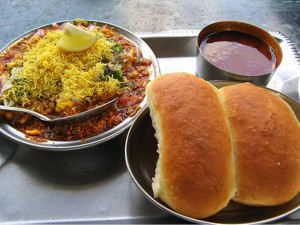 Ragda-Patties Yet another chat served by the street food vendors, it generally has potato filled patties and is served with ragda (dried white peas curry) poured over it with two chutneys and onion sprinkled over it. Delicious…!
Gola Quench your thirst with this colourful delicacy known as 'Golas'. Made up of crushed ice laced with sherbets of your favourite flavours (kalakhatta, mango, orange etc. and don't forget the malai gola), this gives you relief from the scorching heat.
  You will never be empty stomach roaming on the streets of Mumbai at any time of the day.  Enjoy some of the delicious delicacies.
–By Harshali Amin
The following two tabs change content below.
Latest posts by Bharati Shetty (see all)