Rāmniranjan Ānandilāl Podār College of Commerce and Economics, popularly known simply as Podar College, is affiliated with the University of Mumbai, situated in Matunga, Mumbai, India. It is run by the Shikshan Prasarak Mandali also called the S.P. Mandali, which has its headquarters at Pune.
The institution first started the B. Com. Degree course in 1942 and the word Economics was added to the name of the College. It has now become 'Ramniranjan Anandilal Podar College of Commerce and Economics'. The College received permanent affiliation from the University of Mumbai on 17th August, 1950.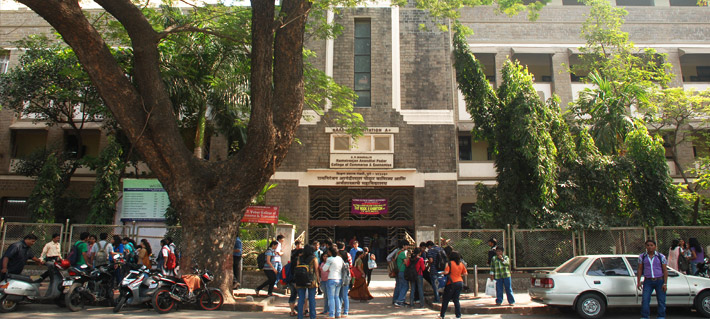 Lets view some interesting facts about R.A. Podar College of Commerce and Economics:
Accessible Location:
Accessible from both Dadar and Matunga stations, and it only take's you 5 minutes by foot from either.
British style architect:
The building is designed in British style, looks beautiful from the outside. The interiors is not uncomfortable, but is quite dull. Classrooms are old and haven't been renovated in what seems like ages. (P.S: The BMS classes are air conditioned).
Attendance Drama:
The college expects you to maintain about 75% attendance, but a little bit here and there is more than acceptable. If you fall well below that, parents are called, but even then not too much of a fuss is made.
Canteen:
The college canteen is a much sought place in at Podar college. The canteen is being run by a private caterer, who affiliated with the college for a decade.
Cliché Library:
The library which started with an initial collection of 11,571 books has now grown up to a rich collection of 75000 books and 2254 bound volumes of national and International periodicals. And it looks same as we usually watch on television.
A Grade College:
R.A.Podar College has been accredited as an 'A' grade college with 3.63 CGPA (cumulative grade point average) on a four point scale by the National Assessment and Accreditation Council (NAAC).
Nicest Faculties (They don't hold grudges against students):
The students are quite pleased with the professors. Regardless of how they teach, students seem to have great respect for a majority of the professors- many of them are really senior, and have been teaching for decades now.
High Profile Alumni:
R C Lahoti, the former chief justice of India, and noted politician Gurudas Kamat are among the alumni of Podar College. There are various others who have excelled in field of Commerce, Economics ,Management & Sports. More than a dozen alumni of Podar College have been honored with the Chhatrapati Award.
Sport-holics :
Gymkhana Offices well furnished with the required sports equipments. All records are maintained electronically. Computerized entries are sent for various sports and intercollegiate competition. For outdoor games and sports, the gymkhana books playgrounds of other organizations.
  10.  Fests:
Podar College of Commerce and Economics hosts two cultural festivals, Enigma (inter college) and Rapport (intra college).
BY BASMAH ANSARI