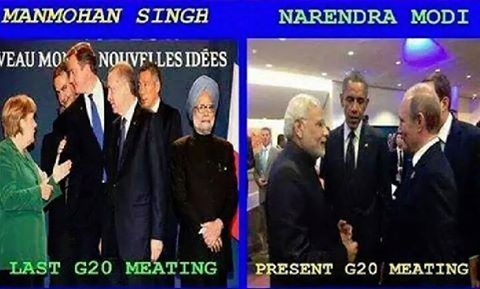 doesn't look like the PM has taken too long to adjust to the conditions at MCG! #ModiInAustralia

In 1 yr liberals have moved from 'Modi is not popular beyond Gujarat' to 'Modi is not popular enough in Australia' #ModiInAustralia

I think one of the most interesting aspects of #ModiInAustralia was his increased comfort while speaking publicly in English.

Foreign audiences never fully appreciate speeches relayed by translators. So English is an important asset. #ModiInAustralia

RT indcfi: PMOIndia narendramodi sir where is my 15 Lacs as promised by you during elections ???? . #ModiInAustralia .

What #Youngsters find in #ModiInAustralia is the #River of #hope refusing to die despite the #pollution from #doubtingToms . @narendramodi

CenterFruit to make @rahulkanwal their mascot, after seeing his tweets on #ModiInAustralia they think none can do "Jheeb Laplaaing" like him

"Modi has hypnotized the normal rowdy house of representatives"- Australian paper #ModiInAustralia




Modi's Australia visit is a "Pure Dalali" for Adani. It is a matter of grave concern. Talk about Poor and Work for Rich. #ModiInAustralia

#ModiInAustralia "@MEAIndia:Celebration of a quaint kind. Came across this pamphlet on arrival at hotel in Canberra. "

While addressing the Australian parliament Modi said,"Terrorism is changing in character and expanding in its reach." #ModiInAustralia (1/3)

(Disclaimer : The information provided here is derived from various other websites. We neither endorse nor support the same)
The following two tabs change content below.
live lazzy ..... go crazzy ^_^ Berry pin - 7582495D <3 <3 intagram - ash_0309
Latest posts by Aishwarya Mehta (see all)