10 Amazing Reasons Why 'School Life' Is The Most Beautiful Phase of One's Life

SCHOOL! After hearing this word everybody feels nostalgic. We see a long flashback of all the special moments we have lived at that "one place". It is the only place after our home, with whom we are attached so much. It is our friends, our teachers and also our school campus that we miss so much after passing out from there. We can say our school as our "second home". We have grown up there with so many people around us, who made us stronger. Everyone waits for a chance to go back to their school and relive those amazing moments of their life again.
There might be very few or maybe none in this world, who will deny to the fact that school life is the best part of our life.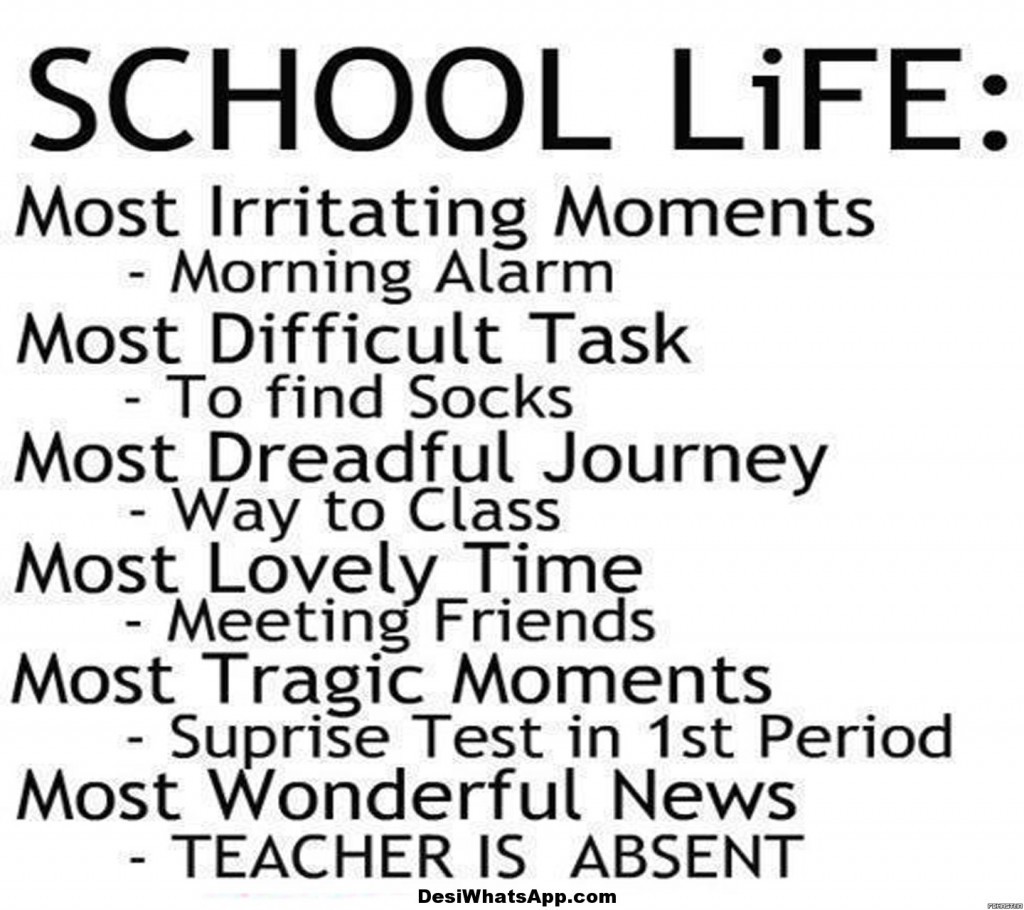 Here are some of the things that will take you back to your school days to feel those moments again. Enjoy reading and reliving those days again.
1) TRUEST FRIENDS WERE MADE HERE.
This is the place where you have made some of your best friends. You have lived for years with them and that is why you have got a very strong bond with them. You know them better than yourself. Whatever may happen you'll never forget those crazy people in your life.
2) A TEACHER TO GUIDE.
Every person needs a teacher who can guide him, appreciate him for his good deeds, punish him for his mistakes and motivate him to walk on the path of success. Everyone has got such a teacher from their school. You will always remember their words and respect them from your heart. You will always remember your teacher's efforts to make you what you are today.
3) SCHOOL CELEBRATIONS.
School celebrations such as annual function, sports meet, interschool competitions and other cultural programs were the best part of your school days. During these days some got chance to show their talent and others got chance to miss their lectures. Environment used to be filled with enthusiasm and anxiety during those days.
4) PICNICS AND CAMPS.
Picnic! Yayyyy…, this used to be our reaction whenever we got notice about picnic or camp. Amusement parks and water parks, excursion to museum, science centres and school camps used to be a great fun. Even on those boring excursions we enjoyed a lot because of some crazy people who accompanied us. Teachers always tried to control us, but we never really bothered.
5) CHOOSING OUR FRIENDS.
School was the only place where we knew each and every person from our class properly. Some used to be notorious, some shy, some nerds and some were always in their Dreamlands. Among all these people, we had right to choose our friends and enjoy those days. Unlike college and life after that, we used to have a "Big group of friends".
6) GIVING NICKNAMES.
Giving weird nicknames to your friends and teachers and mocking them was really fun. Giving a nickname to a person with your best friend and others asking the reason behind that was even more fun. It was like "Let it be people.. You all don't have brain, which I and my BFF has got. "Most common was teasing one person with another person's name. Sometimes you thought that there was really sometimes between them, and sometimes it was just your notorious brain, who wanted to see your friend's ridiculed face.
7) CAREFREE DAYS.
Your life's most carefree part was when you were in school. Although we thought studies a big burden, but it is now we realize that that studying was not at all burdensome. Life becomes like a bumpy road after you leave your school.
8) GROWING UP.
School was your second home. You spent almost equal time at your school and at your home. That is the place where you have grown up from a cute and innocent kid into a matured girl/boy. It is that place where you have learnt a number of lessons and gained confidence.
9) #FIRSTS.
School is the place where you have experienced various things for the first time. Your first crush, first heartbreak, first punishment, first achievement and many more. Among all these, your first crush would be the most memorable one. You may think yourself to be stupid to have a crush on that person, but still you'll never forget that person in your life.
10) PRANKS AT SCHOOL.
Nobody can ever forget about the stupid pranks they played with their friends at school. It maybe insulting others or your own friends. I think everybody might have made their friend fall off from their chair in front of everybody, probably the whole school during any event. And that "I am gonna kill you" look was the thing you awaited for.
Words will always be less to describe the awesomeness of school life.
Thanks for reading and smiling..:)