An Interview with Meghana Rao (Co-Founder) and Shamim T (Co-Founder), Aniika.com
By Karan Mange, Correspondent, BMS.co.in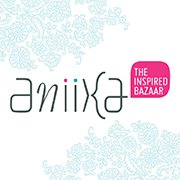 Tell us something about yourself?
Meghana Rao
A graduate from The London School of Economics and Political Science, Meghana has worked as a management consultant at various consulting firms including Ernst & Young and Zinnov Management Consulting in India and the U.S. In her previous roles, she has been recognized for her detail-oriented task execution while keeping in mind the bigger vision behind projects. Coming from a family of artists, she has a deep appreciation for and an insight into the psychology of designers. This background helps her effectively manage and bridge the gap between designers and buyers. Meghana is based in New York, USA.
Shamim T
Shamim has over 14 years of corporate and consulting experience, working in diverse industries through multiple roles in various capacities. Her previous stints include, HP, Trilogy and Zinnov Management Consulting, where she has significantly impacted the businesses through leadership, strategy, operations and result oriented practices. In her last company Zinnov, as the Head, Human capital advisory services she managed and led various projects for small, midsized and large companies, leading them through significant growth and change. Shamim is a Law graduate and holds a Post-graduation from XLRI, Jamshedpur. An artist herself, she is able to understand the designer sensibilities and plays a key role in the curating process at Aniika. Shamim is based in Bangalore, India.
Tell us something about your business
Aniika.com is a virtual curated bazaar for the International end consumer to shop for lifestyle products directly from emerging designers and artists with an Indian connection.
The buyer on Aniika enjoys the reliability and curation that comes with a retail store together with the luxury of buying non-mass produced products directly from the emerging Indian designer.
As far as the sellers are concerned, we promote design entrepreneurship by providing them the opportunity to brand and sell their products to a large international consumer base with minimal operational hassles.
What is your philosophy towards work?
Never lose sight of where you are headed.
"Management is core to every individual, organization & society." Give your views on it.
While management gives you enough ammo in the form of skills and knowledge to largely contribute to any organization/role, unless it is combined with execution skills it is difficult to truly succeed, especially in an entrepreneurial environment.
Name 3 qualities of prime importance that an entrepreneur should possess.
Ability to take risks and have the grit to go through with it and at the same time be flexible enough to adapt.
Ability to execute – Having a great idea, strategizing and creating a business plan is the easiest part.  But the key to success is your ability to make it happen. Don't ever underestimate the execution challenges that can come up.
Perseverance – The ability to keep going even in the most adverse situations.
According to you, what are the challenges for Entrepreneurship today?
In India, the start-up ecosystem is not very conducive for small businesses. Also, some of the tax structures and government regulations add to the woes.
Can Entrepreneurship be taught in B-Schools/Management Institutes/Colleges?
While the basics of business can be taught and theoretical knowledge can be acquired, to be an entrepreneur, one requires a different mind-set. The passion, belief and grit, all has to come from within. It cannot be instilled.
Do you think today's economy is conducive for a new venture to start upon?
A venture can be started any time in any adverse situation. That's what makes you an entrepreneur.
What qualities you see for apart from the required academic qualification while recruiting a person?
In our case it has to be the mind set to adapt to a start-up environment and the ability to fit in; which can be very different from a regular corporate job.
"Earning more & more is the motive behind any business." Is it justifiable?
Yes. That is also the expectation from your investors. The more you earn the more you contribute to the economy. Ultimately that's the reason for the existence for any business.
COMPANY PROFILE
History-
Started in October 2011, Angel funded
Vision –
We aim to be 'The curated bazaar' to buy and sell designer lifestyle products from a New India.
Products & Service –
Aniika.com is a virtual curated bazaar for the International end consumer to shop for lifestyle products directly from emerging designers and artists with an Indian connection.
Marketing Strategy –
We have supplemented our online marketing efforts with offline marketing, which has really helped us in building the Aniika brand.
Existing Market Presence –
We are currently open to US buyer market
Future Plans –
Expand to other global markets
The following two tabs change content below.
I am Karan Mange, Assistant Manager- Social Media Initiatives at BMS.co.in currently studying TYBMS I am fun loving, extrovert, loves too much of talking, interacting with new people, exploring new places and many more. I go mad about music, especially sufi and classical. Interested in photography, graphic designing, media and music. want to explore world and see myself in the top management of a MNC.